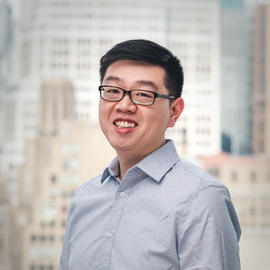 Alan Lee joined the Michael J. Fox Foundation as an intern in August 2009, and is currently working as an Associate Director in Donor Services.
He upholds the Foundation's commitment to donors to accept every gift gratefully and efficiently. The Donor Services team devises and supports strategies to ensure that every donation — whether it is made over the phone, online, as part of a recurring gift, in tribute/memory, through the mail or in person — is processed smoothly. Volunteering and helping people has been one of his goals in life. During one summer in high school, Alan volunteered at the New York City chapter of the March of Dimes.
As an intern at the NYC Department of Small Business Services, he participated in an initiative to go door-to-door at small businesses below Houston Street to bring awareness of grant funds that they might be eligible for. More recently, for two consecutive years, Alan volunteered at New York Cares to teach high school students the tools and skills they needed to do well on the SATs.
Alan graduated from Skidmore College with a BA in economics and mathematics. In addition to his commitment with the Foundation, he has a MBA in economics and statistics from Baruch College's Zicklin School of Business.