Officer • Principal Giving & Revenue Strategy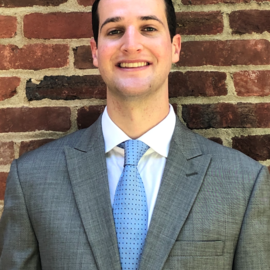 Alex provides operational support to the Co-Founder and Senior Leadership by reducing the time relationship managers spend on administrative tasks and by improving the engagement experience for MJFF constituents. He also contributes to the revenue strategy function of the DORA team by enhancing both visibility into revenue line performance and the efficient allocation of resources.
After graduating from college in 2017, Alex went directly into the Teach For America program. Teach For America (TFA) is a federally-sponsored program dedicated to achieving educational equity in the U.S. TFA's model is to place qualified applicants into teacher positions at under-resourced public schools across the nation. He completed the two-year program in St. Louis, Missouri where he taught 4th and 5th graders at Woodward Elementary School.
Prior to joining Teach For America he served as an intern at a number of organizations including: a healthcare lobbying firm, a congressional campaign, and a foreign policy think tank.
He completed Undergrad at University of Pennsylvania in 2017 with a B.A. in Political Science and History. He then completed his Masters at the University of Missouri – St. Louis in 2019 with a M.Ed. Elementary Education Focus. He also has a Missouri teacher certification.
He volunteers as a tutor at Avenues of Justice, an alternative program for local NYC youths in the juvenile criminal justice system. In my free time he enjoys cooking, working out, DJing, and spending time with friends.