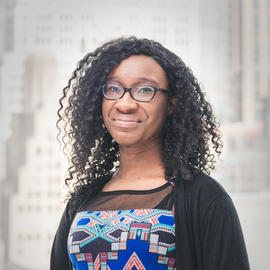 Andrea Guscott serves in the Development Department as a Donor Services Officer
She graduated from  Binghamton University (SUNY) with a Bachelor's degree in English and a minor in Sociology. Since graduation, Andrea has been fortunate enough to work for a variety of Non-profit organizations all of which happened to be part of the Healthcare industry. Through her many years in the non-profit sector, she has developed a passion for serving others and helping whenever needed. She is more than willing to roll up her sleeves and get the job done no matter what. Working closely with others in the Development department is something that she truly treasures, as she strongly believes there is strength in numbers.
Andrea is especially skilled in editing and proofreading. In her spare time, she enjoys coaching, cooking, and writing in many different genres including fiction and short story. She will soon release a book of short stories, and a non-fiction book for children and adolescents.