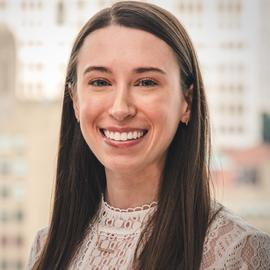 Andrea strategizes outreach to increase awareness for research participation, which is a crucial component of moving Parkinson's research forward. Through the promotion of educational resources, she oversees disseminating useful information for people with Parkinson's and their loved ones as well as supporting the Foundation's mission to advocate for greater access to care on behalf of those living with the disease. She also manages the planning process for content creation to support MJFF's marketing campaigns.
Prior to joining MJFF, Andrea worked in programmatic advertising specializing in the strategic plans for serving online advertisements to defined audiences in a variety of industries such as cosmetics, insurance, and consumer packaged goods companies. She also has previous experience in marketing for higher education.
Andrea holds a BA in Film Television and Interactive Media, and Sociology from Brandeis University.