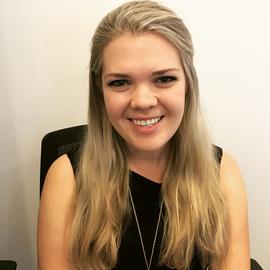 Christina serves as a business lead between MJFF's science team and grantees. She furthers programmatic goals with strategic and tactical project management as well as operational support throughout the life cycle of a grant
Prior to The Michael J. Fox Foundation, Christina worked for over five years in health communications. Most recently, she served as Director of Communications for the healthwear company Care+Wear, where she helped launch the company's Patient Gown and Chest Port Access Hoodie with Oscar de la Renta. Previously, she worked at the public relations firms Ruder Finn and FleishmanHillard.
Christina graduated from Princeton University in 2013 with a B.A. in French. She also holds an M.S. in Nonprofit Management from Columbia University.
Christina is an active volunteer with the New York Junior League and also serves as the Co-Chair of the Guild of the Princess Grace Foundation-USA. She lives with her husband and their dog Bobo in New York City.