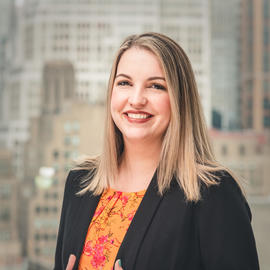 Danielle Bechta joined The Michael J. Fox Foundation in January 2019 as an Advancement Officer.
Danielle supports the Foundation's efforts to engage the broader community in our mission to speed a cure, attending meetings and events with Parkinson's patients, caregivers, donors, and other MJFF constituents and stakeholders.
Prior to joining the Foundation, Danielle worked at the Rutgers University Foundation where she planned special donor events and worked with the major giving department to develop strategies to steward donors.
Danielle graduated from Rutgers University in 2011 with a BA in Political Science, and also holds a MS in Organizational Development and Leadership, from Saint Joseph's University. In her free time, Danielle enjoys attending concerts and traveling.