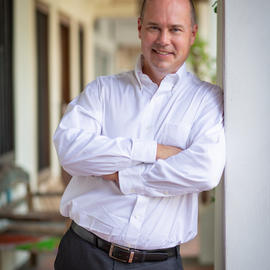 Dustin directs, oversees, and implements high-level strategy and execution of initiatives that support the Foundation's public policy priorities. His work with the team focuses on legislative and regulatory policy that increases federal investments in Parkinson's research, ensures research freedom, and retains and expands access to care, as well as works to incorporate diversity, equity, and inclusion in policymaking.
Dustin has over twenty-five years of experience developing and managing strategies to advance legislative and regulatory policy on behalf of corporations, trade associations, foundations, and nonprofit organizations. He devoted the first half of his career in government relations with Malkin & Ross, a progressive lobbying firm in Albany, New York and its issues campaign management office, M+R Strategic Services, headquartered in Washington, DC. While serving as M+R's Senior Vice President, Government Affairs, Dustin lobbied to secure millions of dollars in government grants for nonprofit human service and patient advocacy organizations such as the Gay Men's Health Crisis, AIDS Community Resources, LGBT Center of New York, Coalition for the Homeless, and AIDS Council of Northeastern New York.
Dustin also served as Senior Director, Government Relations at National Public Radio (NPR) where he designed and led federal advocacy strategies that resulted in the passage of bipartisan legislation allowing local public radio stations to apply for disaster relief funding, as well as securing NPR's first-ever federal grant from FEMA to develop innovative radio technology for sending emergency alerts to people with visual and/or hearing impairments.
During his time working in Southeast Asia, Dustin served as Head of Government & Public Affairs at the American Chamber of Commerce in Singapore, Director of the Asia Business Trade Association, and Senior Advisor, Regulatory Policy at Wave Money, a leading financial technology services company in Myanmar where he developed and managed the strategy that resulted in multiple public-private projects including mobile money relief payments to individuals who were homeless, unemployed, elderly, low-income, disabled, or required medical assistance.
Dustin holds a Master of Public Administration degree from the University at Albany's Nelson A. Rockefeller College of Public Affairs & Policy.
Dustin lives in Washington, DC with his wife and son.