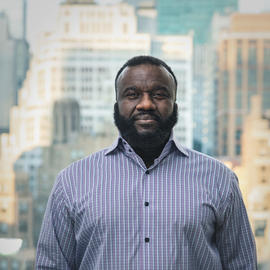 Eric Amanfu joined The Michael J. Fox Foundation in January 2001, shortly after it was founded and he has grown with the Foundation into his current role as the Technology Officer.
In this capacity, Eric is responsible for installing and maintaining computer hardware, software and managing the entire network infrastructure. In addition, Eric provides recommendations, planning, developing and implementing policies and procedures for systems operations. Eric's role presents him with a unique opportunity to work closely with his colleagues using technology to improve efficiency and productivity. During his free time, Eric's hobbies include traveling, watching soccer games, reading and listening to music.
Eric completed his undergraduate studies at New York University with a minor in applied science and a major in Information Systems.