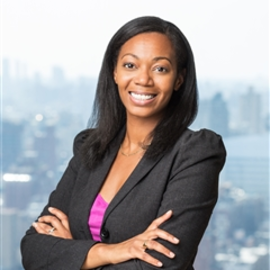 Jamie L. Hamilton, PhD, joined the Foundation in 2016. As Senior Associate Director of Research Programs, she oversees the Foundation's focus on treating motor and non-motor symptoms, particularly gait and cognition. She also supports efforts for novel MRI acquisition and visualization strategies to characterize underlying mechanisms of Parkinson's disease.
Dr. Hamilton stays closely linked to the Parkinson's community to develop an innovative agenda accelerating research and drug development for Parkinson's disease while ensuring that MJFF priorities reflect and best serve the ultimate needs of patients. She regularly meets with academic and industry scientists around the world to identify promising ideas to support, providing troubleshooting and ongoing management of projects as they go forward.
Dr. Hamilton completed her Ph.D. in Neuropsychology at Howard University. During her graduate training she studied at Georgetown University in fMRI and at University College London, UK in statistical parametric mapping. She was able to apply that skillset to her postdoctoral training at Columbia University investigating the role of vascular pathology and depression in cognitive aging. Prior to joining the Foundation, Dr. Hamilton worked in R&D in the biotechnology sector, where she provide scientific expertise to the conceptualization of Phase I-IV research programs, rater training and measurement consultation for promising therapeutics for neurodegenerative diseases.
During her free time, Dr. Hamilton enjoys yoga, jazz and running. She is passionate about the Foundation's mission and contributing toward a cure for Parkinson's disease.