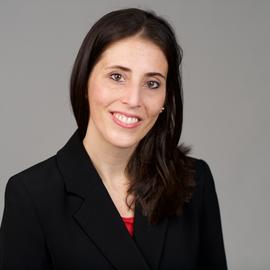 As Associate Director, Research Programs, Jessica is responsible for leading and supporting critical stages of the granting process from proposal development and review to contracting and milestone management. Jessica also works closely with stakeholders to shape, recommend and communicate creative, solutions-focused, value-added actions and landscape points-of-view within assigned portfolios.
Jessica brings nine years of medical research experience in world leading institutions such as Icahn School of Medicine at Mount Sinai and has been appointed Adjunct Assistant Professor of Microbiology at the City University of New York. Prior joining MJFF, Jessica was an Analyst at the UN Sustainable Development Solutions Network, providing research and general support to more than 180 scientists on the preparation of a policy-relevant scientific assessment of the state of the Amazon.
Jessica earned an undergraduate degree in Biology and a Ph.D. in Molecular Biology, both from the University of the Basque Country, in Spain. After completing her Ph.D., Jessica moved to New York for her postdoctoral studies first at Rutgers University, and later at Icahn School of Medicine at Mount Sinai, where she specialized in the molecular development of several brain pathologies such as glioblastoma or epilepsy.
In her free time, Jessica enjoys being involved in projects for a global sustainable development. She has volunteered for many years with IIE-Scholar Rescue Fund and interned at UNESCO, where she helped preserve the scientific heritage of countries at war. In 2019, Jessica spent some months in Eastern Uganda where she helped implement public health and education programs in rural areas with Uganda Village Project.
Jessica enjoys riding her bike in Central Park and spending time with her friends (especially when eating ramen after a snowstorm).