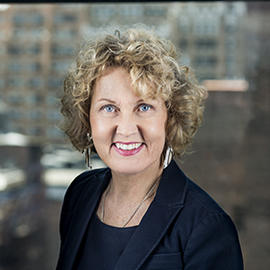 Jude Williamson joined the Michael J. Fox Foundation in 2016 as a strategic resource to support the growth and development of the team and its leadership. Her role will be overseeing human resources operations and workforce planning as the Foundation expands research efforts and partnerships, creating an agile workforce poised to support its donors and supporters.
Jude comes to MJFF with deep experience in organizational change management and HR strategy. She has over 20 years of human resources experience and 13 years in the non-profit sector. Most recently she was HR Director for the global regional school system for the Archdiocese of New York. Prior to that she served for 10 years as HR Director at North Shore-LIJ Health System (now Northwell Health) overseeing a number of functions including operational support, talent management, and change during expansion and growth.
Outside of the workplace Jude works coaching executives and young professionals in career transition and organizational readiness as a member of the International Coaching Federation. She also supports emerging leaders focused on building expertise. Jude has a Master's degree from Long Island University in Business and Psychology with a concentration in Organizational Development and a Bachelor's degree in Public Communications from Syracuse University.