Vice President • Research Partnerships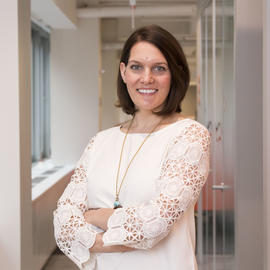 As VP of Research Partnerships, Katie focuses on building the Foundation's capacity as an unprecedented stakeholder in Parkinson's drug development — a nimble, patient-focused problem-solver whose efforts are demonstrably accelerating progress toward treatment breakthroughs. Katie leads MJFF's industry strategy, building relationships with biopharma and health tech companies as research partners in the Foundation's scientific and educational programs. She also leads programs critical to patient engagement in research including the Fox Trial Finder smart-match tool.
Prior to joining the Foundation, Katie completed doctoral and postdoctoral training in Neuroscience and Bioengineering respectively at the University of Pennsylvania. Her research focused on brain injury that occurs during acute trauma such as cardiac arrest and concussion. Katie also helped speed clinical research as a clinical trial coordinator at Memorial Sloan-Kettering Cancer Center in NYC, which is where her dual passions for science and serving patients first intersected.
Katie graduated from Princeton University with a BA in Psychology and holds a PhD in Neuroscience from the University of Pennsylvania.
She lives in New Jersey with her husband and two young children.