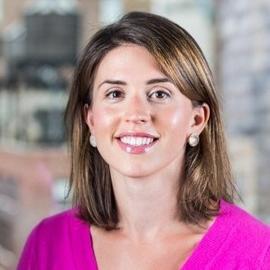 Kristin re-joined The Michael J. Fox Foundation in 2021 as the Vice President of Foundation and Corporate Giving. Kristin's role strategically centralizes Foundation and Corporate Giving across principal and major gifts, Team Fox as well as annual giving. She will increase impact through a proactive expansion of outreach and a streamline of workflows in support of the development goal of raising new revenue.
Kristin has spent the last three years leading a $250M Capital Campaign for Montgomery Bell Academy (MBA) in Nashville, Tennessee. She was also responsible for creating and implementing a five-year strategic plan for the school. 
Prior to her time at MBA, Kristin spent over 7 years at The Michael J. Fox Foundation, where she served as the Vice President of Advancement. She started at MJFF as a senior fundraiser in the Northeast, covering NYC, New England, Canada and the U.K.
Kristin spent the first part of her career at Young and Rubicam, Saatchi & Saatchi, Lehman Brothers, and The Dwight School.
Kristin graduated cum laude from Washington and Lee University with a BA in Sociology and Anthropology.
Kristin lives in Nashville, TN with her husband and two children.