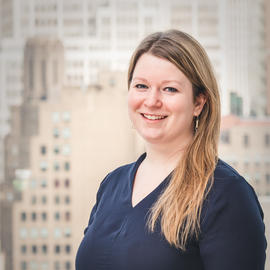 Lauren joined The Michael J. Fox Foundation team in March of 2018. As the Digital Designer, she is responsible for designing visual assets to support initiatives for the Foundation's audience development and fundraising efforts on various online marketing channels. In addition to creating content, she is responsible for maintaining a cohesive brand identity across all digital platforms.
Lauren is an Ohio native with a Bachelor of Arts from Miami University. After graduating, she bought a one-way ticket to New York City and has been pursuing various creative projects ever since. Most notably, she worked at InStyle magazine as an online photo editor. Over her four and a half years at InStyle, she helped maintain the magazine's visual identity through custom collages, edited photos, curated galleries and original graphics. 
Driven by her passion to find a cure for her mother and the millions of people living with Parkinson's disease, she is grateful to work alongside such talented and dedicated colleagues bound by a common calling to make a cure a reality.