Director, Data Partnerships • Research Cohorts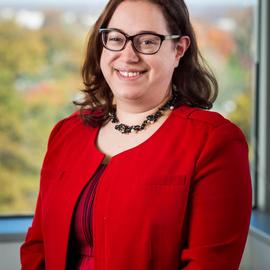 Leslie Kirsch joined the Michael J. Fox Foundation in January 2021. In her current role, Leslie is responsible for providing strategic and operational oversight on implementation and maintenance of the Foundation's research data ecosystem. She focuses on collection, sharing, and use of data resources to accelerate Parkinson's research.
Prior to joining MJFF, Leslie led the data science center of excellence for a top-25 public accounting firm. There, she led a team of 40 data analysts who supported a wide variety of stakeholders and clients in designing and executing innovative technology projects for audits, investigations, and consulting engagements. Prior to her seven years in public accounting, Leslie worked at the U.S. Government Accountability Office for nearly a decade as a forensic auditor, process improvement specialist, and workforce trainer.
Leslie holds a BS in Accounting, a BS in Finance, and an MS in Cybersecurity from the University of Maryland university system, and is a doctoral candidate in Human and Organizational Learning at the George Washington University. She is a Certified Fraud Examiner, Certified Information Systems Auditor, and Certified Internal Auditor.
In her spare time, Leslie can be found teaching graduate accounting classes or watching the Washington Capitals play ice hockey.