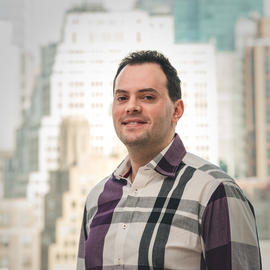 As Associate Director, Research Programs, Luis stays closely linked in with the Parkinson's research community to maintain a current view of the PD biology and drug development landscape, and ensure that MJFF research priorities reflect and best serve the ultimate needs of patients.
This includes regularly meeting with academic and industry researchers at Foundation-hosted workshops and conferences as well as traveling to Parkinson's/neuroscience congresses and symposia around the world. Luis currently manages the alpha-synuclein biology and therapeutic programs in the Foundation's portfolio, one of the priority areas in the Foundation's efforts to develop new therapies for Parkinson's disease.
Luis earned his Ph.D. in Biochemistry from the University of Lisbon, Portugal, and did postdoctoral research at the Max Planck for Biophysical Chemistry, Germany, and at Columbia University. Collectively, Luis spent 12 years doing fundamental research in the fields of Parkinson's and Alzheimer's diseases prior to joining MJFF, where he studied the effects of sugars in alpha-synuclein toxicity and established different iPSC models for Parkinson's and Alzheimer's diseases. He also actively collaborates with Portuguese stakeholders to foster and develop Portuguese science and entrepreneurship.
Luis is passionate by the foundation's mission and is fully committed to helping every capacity to find a cure for Parkinson's disease.
During his free time, Luis love to play music, doing sports, travel, and be surrounded by amazing friends.