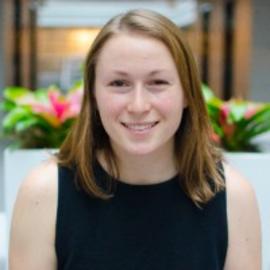 Mara helps cultivate partnerships and develop programs designed to increase the Foundation's engagement with industry. She collaborates with a broad range of internal colleagues, members of the scientific community, and the biopharma industry. She also develops and manages partnership programs with a focus on aligning novel projects with MJFF's mission and inserting strategic business input and oversight.
Prior to joining the foundation, Mara worked as a consultant at ClearView Healthcare Partners, advising biotech and pharmaceutical companies on a range of strategic engagements, including market opportunity assessments, portfolio optimization strategy, and launch planning.
Mara graduated from Yale University in 2018 with a B.S. in Molecular, Cellular, and Developmental Biology.