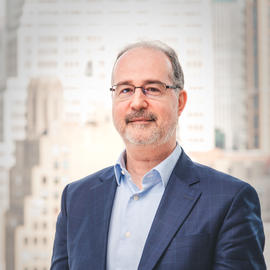 Marco Baptista joined the Foundation in 2012. As Vice President, Research Programs, Marco stays closely linked to the Parkinson's community in order to develop an aggressive and innovative agenda for accelerating research and drug development for Parkinson's disease. This ensures that MJFF priorities reflect and best serve the ultimate needs of patients. Marco currently leads the Foundation's priority interest in understanding LRRK2, a major genetic form of parkinsonism. He also oversees strategies to identify promising therapies for Parkinson's disease.
Previously, Marco was an Associate Principal Scientist at Merck leading a preclinical Parkinson's program that helped develop field-enabling resources that were key in us better understanding the genetic causes of Parkinson's disease.  Marco brings drug discovery knowledge and expertise to the Foundation that helps drive the funding of translational research.
Dr. Baptista earned an undergraduate degree in Psychology from the University of Toronto and a PhD in Neuroscience from McMaster University, Canada. After completing his postdoctoral research at The Scripps Research Institute in La Jolla, Marco spent over 5 years in the pharmaceutical industry leading a preclinical Parkinson's program. 
Marco lives in New Jersey with his wife and two children.  Marco's children have a keen interest in science and have helped him conduct two Parkinson's experiments on the International Space Station
Recent Articles by Marco Baptista, PhD