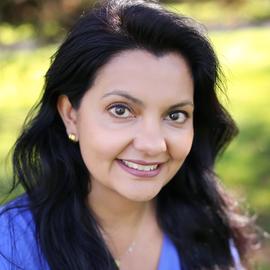 Nadia works with business owners across the Foundation to achieve programmatic and fundraising goals. She is responsible for conceptualizing, writing and editing the Foundation's core suite of publications, as well as a range of print and digital content across a mix of marketing channels aimed at a diverse audience of donors, patients, caregivers and researchers.
Nadia started her career as a chemist in the pharmaceutical industry, but her love of writing motivated a transition to science communications roles in the non-profit world. Her previous experience includes Damon Runyon Cancer Research Foundation, Columbia University and the Whitehead Institute for Biomedical Research.
Nadia graduated from Ball State University with a BS in Biology and Chemistry and went on to receive an MS in Organic Chemistry from Purdue University.
When she isn't writing, she can be found on trails running and biking.
Recent Articles by Nadia Halim
The Women of The Michael J. Fox Foundation Who are Bringing Us Closer to a Cure

---

Key Takeaways from The Michael J. Fox Foundation's Virtual LRRK2 Industry Summit

---

What We Fund: $11M to Projects Investigating New Parkinson's Treatments and Learning More about Disease

---

MJFF Launches Funding Program to Promote Diversity, Equity and Inclusion in Parkinson's Research

---