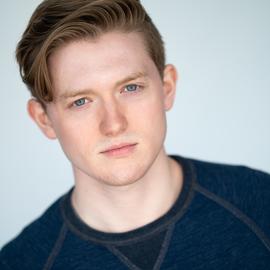 As a Marketing Officer, Noah provides broad support to the large and high-functioning marketing team. This involves a wide range of digital and traditional marketing tasks to gain fluency and experience in the field. Noah campaigns to promote enrollment in research studies, financial support, educational events, and advocacy opportunities.
As a recent graduate of the University of Kansas, Noah's professional work history is still growing.  He was a Communications Intern for the Michael J. Fox Foundation while he was attending college.  As a student, Noah was cast as Lead Actor in multiple K.U. theatrical productions, as well as worked in various theater production crews.  Since graduation, Noah has been a volunteer for Heart to Heart International, a humanitarian organization committed to creating a healthier world. Specifically, he assisted patrons with the COVID-19 vaccination process.
Noah received a Bachelor's degree in Liberal Arts and Sciences, in Theater Performance and Psychology from the University of Kansas in May 2020.
His passions include helping others, trying new things, and seeing the world.  However, he does love to slay monsters in Dungeons and Dragons as well.