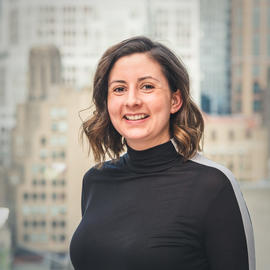 Rachael Bulmer joined The Michael J. Fox Foundation in April 2013 as the Assistant to the Co-Founder and Executive Vice Chairman. After 18 months in this capacity, she transitioned to the Advancement team.
As a Senior Associate Director for the Northeast, Rachael supports the Foundation's efforts to engage the broader community in our mission to speed a cure, attending meetings and events with Parkinson's patients, caregivers, donors and other MJFF constituents and stakeholders.
Prior to joining the Foundation, Rachael was a Registered Client Service Associate at Morgan Stanley where she supported a team of Financial Advisors, serving as the first point of contact for clients' customer service needs.
Rachael graduated from Bucknell University in Pennsylvania in 2010 with a BA in political science. Born and raised in New Jersey, she currently resides in Brooklyn, NY.