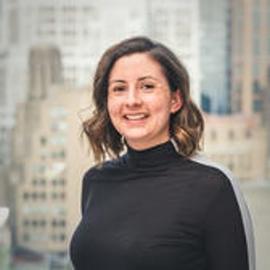 Rachael joined the Foundation in April of 2013. As Director of Principal Gifts, Rachael is responsible for fundraising at Board and Principal gift levels and working with senior leadership to drive strategy to meet associated revenue goals. Rachael serves as a key foundation spokesperson and senior frontline fundraiser, striving to make a clear and compelling case for support for MJFF.

Rachael joined the Michael J. Fox Foundation in April of 2013 as the assistant to the Co-Founder and Executive Vice Chairman. She moved over to the Development Team in August of 2014 and has since enjoyed the privilege of working directly with MJFF's supporters and community members to further our mission.
Prior to The Michael J. Fox Foundation, Rachael served as a Client Service Associate at Morgan Stanley Smith Barney, supporting a team of financial advisors, and providing trading and customer service support to help clients realize their financial planning goals.
Rachael graduated Bucknell University Class of 2010 with a BA in Political Science.
Rachael loves to travel and explore, meeting friends around the country for a half marathon or national park hike as often as possible. She is a proud member of Team Fox and has participated in several events ranging from the 5k series to the 50-mile endurance challenge, Rock the Ridge. (But don't be fooled... she is most commonly found enjoying books and movies at home in New Jersey with her French bulldog, Wilma.)