Director • Research Programs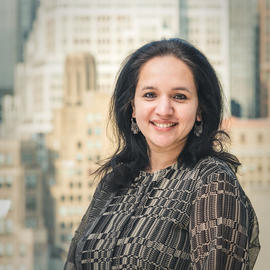 Shalini joined the Foundation in January 2016. As Director, Research Programs, Shalini stays closely linked with the Parkinson's research community to maintain a current view of the PD drug development landscape and ensure that MJFF research priorities reflect and best serve the ultimate needs of patients. This includes regularly meeting with academic and industry researchers at Foundation-hosted workshops and conferences as well as traveling to Parkinson's/neuroscience congresses and symposia around the world.
Shalini leads the Foundation's strategy on Parkin and PINK1, two genetic targets implicated in early-onset PD. She also oversees the priority biology portfolio to better define the role of known PD genes on disease pathogenesis/progression and manages the Foundation's biomarker programs on LRRK2, Parkin, PINK1 and mitochondrial pathways. This includes overseeing the process of soliciting investigator proposals, peer review, awarding and contracting funds, troubleshooting and assessing projects as they go forward, and assessing the potential for supplemental or follow-on funding.
Shalini earned an undergraduate degree in Pharmaceutical Sciences from U.I.C.T, India and a PhD in Neuroscience from the Medical College of Georgia.
Prior to joining the Foundation, Shalini trained as a postdoctoral research scientist at Columbia University where she worked on validating novel targets to treat Parkinson's disease using a gene therapy approach. With several years of research experience, she has developed a strong understanding of the dopaminergic system in the healthy brain and its dysfunction in patients with Parkinson's disease.