Vice President • Community Outreach & Events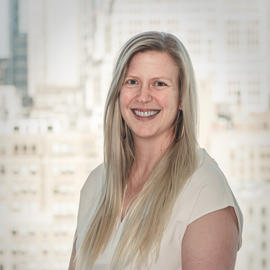 Stephanie Paddock started at The Michael J. Fox Foundation in May of 2010 working with the grassroots community fundraising program, Team Fox. Recently, she transitioned the Community Events team and currently oversees programs including the Fox Trot 5K Run/Walk and Tour de Fox Cycling series as well as the new educational event series, Parkinson's IQ + You.
Stephanie got involved with the Foundation prior to working here, joining Team Fox in 2009 to participate in the NYC Triathlon for her father who had Parkinson's. She then quickly became a part of the Team Fox Young Professionals, co-chairing their inaugural "Sunday Funday" fundraiser. Looking for even bigger challenges, she summited Kilimanjaro in August 2012, traversed the Grand Canyon Rim-to-Rim in one day in 2015 and has completed numerous marathons. She's currently training for her first 50-mile ultramarathon.
She's committed not only as an employee but as a Team Fox member. Seeing firsthand how Parkinson's has affected her family, Stephanie does her part in the office and on the race course to inspire others and help raise necessary funds and awareness for research. Each year, she chooses new athletic feats to participate in honor of her father and the entire "Team Fox Family."
Prior to working at the Foundation, Stephanie managed on-campus recruiting for Jane Street Capital, a proprietary trading firm, for almost 4 years. She graduated with her BA in sociology and economics from Boston University.