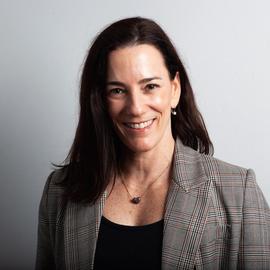 Tina Rosenbaum joined The Michael J. Fox Foundation in November 2020.

In her current role as Vice President, Marketing Strategy and Operations, Tina has strategic and operational responsibilities for all Marketing initiatives, overseeing a group of Marketing strategists, as well as Marketing technologists to support a wide range of Foundation stakeholders. She works on a day-to-day basis with the Marketing, Development and Research teams to shape promotional activities in support of all Foundation programs and objectives.
Tina brings over 20 years of strategic marketing, communications and brand experience to her role. Prior to joining the Foundation, she held leadership positions in several branding agencies and worked with non-profits across a variety of causes including politics, suicide prevention and mental health.
Tina holds a Bachelor of Arts in Communications from Newcomb College, Tulane University in New Orleans.