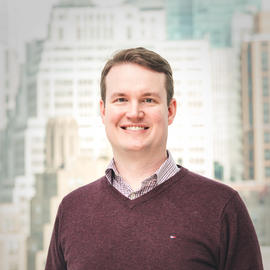 Will Fowler joined The Michael J. Fox Foundation in 2018 and leads the Finance, Strategy, Information Technology, and Facilities teams.
Will oversees the Foundation's financial and operational functions including strategic planning, accounting, financial modeling, and reporting, and is responsible for ensuring that the Foundation's resources are efficiently allocated to achieve the strategic goals of the organization.
Prior to The Michael J. Fox Foundation, Will served as Vice President of Operations and Strategic Planning at Sesame Workshop, where he led a team proposing Sesame Workshop's winning application to the MacArthur Foundation's $100 million grant competition with a 5-year program to help children affected by the Syrian Civil War. Fowler also founded Streambino Children's Media, an online distributor of television library content from top independent producers. He began his career as a US Navy Officer and nuclear engineer aboard the submarine USS Seawolf.
Will graduated from the Massachusetts Institute of Technology with a B.S. in Civil Engineering and holds an MBA from Harvard Business School. He lives in Scarsdale, New York with his wife and two children.