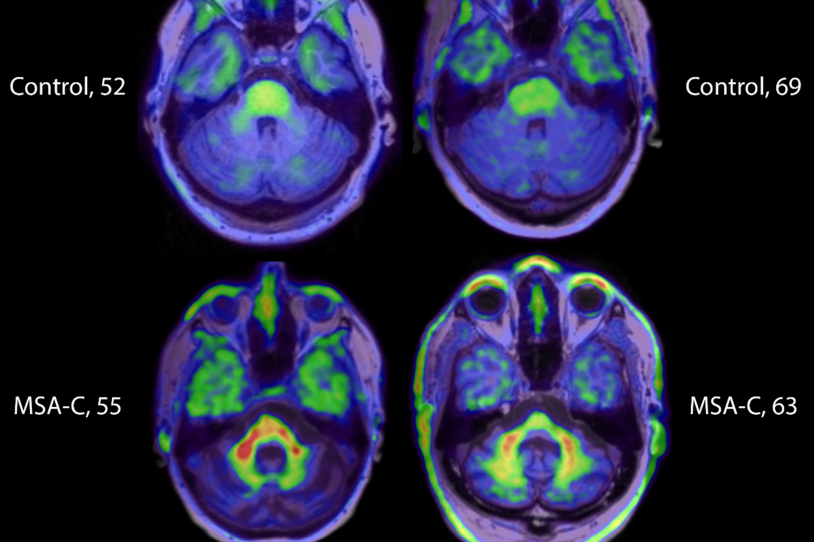 Today in Barcelona, Spain, at the International Conference on Alzheimer's & Parkinson's Diseases (AD/PD), a research team funded by The Michael J. Fox Foundation is announcing important progress in the pursuit of the alpha-synuclein imaging tracer — a top research priority for the Foundation because of its potential to transform drug development.
Misfolding and clumping of the alpha-synuclein protein in brain and body cells are the pathological hallmark of Parkinson's disease. Scientists believe this toxic dysfunction gives rise to Parkinson's onset and progression. The ability to visualize alpha-synuclein activity in the living brain would be a game-changer for testing and developing potential new Parkinson's drugs. (Similar strategies in Alzheimer's have had a major effect on accelerating drug development for that disease.)
Now AC Immune, a Swiss biotechnology company, has shared the first images of alpha-synuclein in the living human brain. They've achieved this major step forward working in individuals living with multiple system atrophy (MSA) — a related parkinsonism that, like Parkinson's, is characterized by misfolding and clumping of alpha-synuclein in the brain. In its press release, the company said their PET (positron emission tomography) tracer can differentiate people with MSA from control volunteers, people with Parkinson's disease and people with Lewy body dementia. (Learn more about these conditions related to Parkinson's.)
If validated, AC Immune's tracer should be a powerful steppingstone toward the critical tracer tool for alpha-synuclein in Parkinson's disease patients.
Jamie Eberling, PhD, MJFF Senior Vice President of Research Resources, leads the Foundation's neuroimaging programs. "Our Foundation has long supported the development of these critical but elusive imaging tools, and we are heartened by this progress toward their widespread application," she said. "As they have for Alzheimer's disease, PET tracers would be pivotal in transforming the future of Parkinson's research and care."
VIDEO: Dr. Eberling discusses the power of an alpha-synuclein imaging tracer.
The Michael J. Fox Foundation has been working to drive progress in alpha-synuclein imaging for more than a decade. The Ken Griffin Alpha-synuclein Imaging Competition, announced in 2020, awarded AC Immune and two other teams (at Mass General Brigham and Merck) significant funding to accelerate work in this area. Additionally, in 2016, we announced an Alpha-synuclein Imaging Prize to be awarded to the first team ruled by a jury of experts to have achieved successful imaging of alpha-synuclein in the living human brain.
Update (03/21/22): AC Immune presented further data on its ACI-12589 tracer results at the AD/PD conference on Friday, March 18.
"It's the talk of the meeting," said Dr. Eberling. "There is work to be done, but we are cautiously optimistic."
Added Ken Marek, MD, special scientific advisor to MJFF, who was also in Barcelona for the presentation, "This is an important first step. More data is needed, but these findings — made possible by support from The Michael J. Fox Foundation — will help energize the field to deliver additional tracers." 
The company is planning a webinar on its alpha-synuclein diagnostic and therapeutic portfolio on March 29 at 10 a.m. ET. Learn more and register on the company's website.