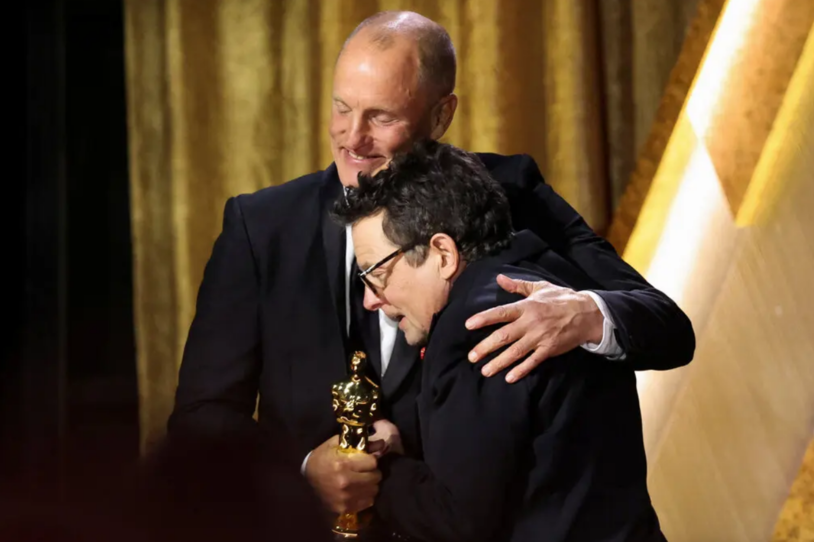 Iconic actor. Best-selling author. Advocate. Optimist. These are just a few titles that come to mind when speaking about our intrepid founder, Michael J. Fox. On Saturday, November 19, the Academy of Motion Picture Arts and Sciences added another title to the list — Jean Hersholt Humanitarian Award winner. The Academy's Board of Governors presented Michael with this honor, and with an Oscar statuette, at the Academy's 13th Governors Awards in Los Angeles, California, for his tireless advocacy and boundless optimism to change the future for millions of people and families in the Parkinson's community.
Introducing Michael to the stage to accept the award, actor and friend Woody Harrelson shared a powerful introduction:  
"Michael J. Fox never asked for the role of Parkinson's patient, disease advocate. But make no mistake, it is his greatest performance. Michael J. Fox sets the ultimate example of how to fight and how to live. Vulnerable? Yes. Victim? Never. An inspiration? Always."
Accepting the award with a standing ovation, Michael reflected candidly on living with Parkinson's three decades and his determination even during life's challenges:
"Parkinson's disease is the gift that keeps on taking. But it truly has been a gift."
He shared his gratitude for friends, family and the worldwide Parkinson's community and how each person has played a role in the Foundation's tremendous Parkinson's research progress with over $1.5 billion funded since inception in 2000:
"I'm so grateful to all of these people and thousands more who will make this world without Parkinson's a reality. I'm not sure I communicate it well, but it is humbling in the deepest way to stand here and accept your kindness and admiration, when truly the effort is being driven by others so deserving of this attention. I'm grateful to them and to you because my optimism is fueled by my gratitude. And with gratitude, optimism is sustainable."
Since 1956, 42 individuals or organizations have been awarded the Jean Hersholt Humanitarian Award, which is given to "an individual in the motion picture arts and sciences whose humanitarian efforts have brought credit to the industry."
Please join us in sending our sincere congratulations to Michael on this latest honor! And watch Michael's full acceptance speech at the Oscar's Governors Awards below.
Inspired? Here are a few ways you can be part of our mission to cure Parkinson's, too: