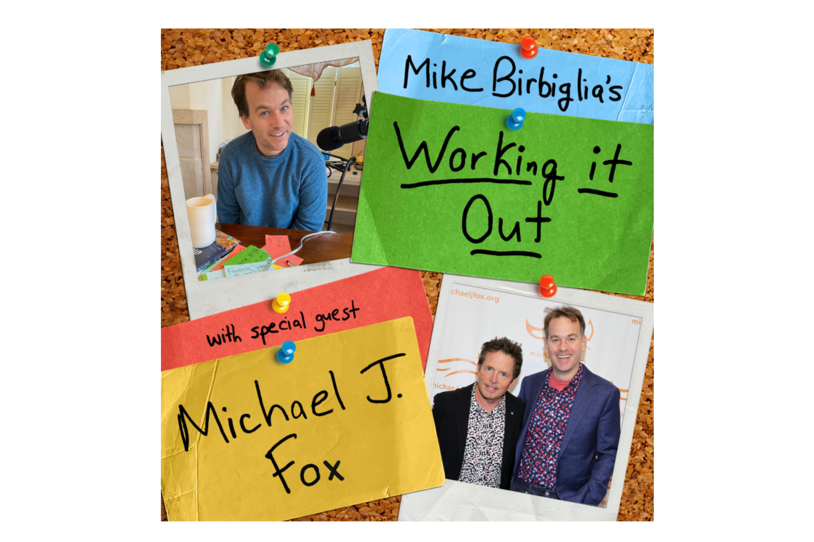 Looking for some comedic relief and your daily dose of inspiration? Grab your headphones and listen to Foundation founder Michael J. Fox as he joins comedian and actor Mike Birbiglia's Working it Out podcast. Michael discusses everything from living with Parkinson's for three decades after diagnosis to fun stories growing up, and the future of brain disease research.
When Mike Birbiglia shares his gratitude for the Foundation's mission and crossing the $1 billion mark in Parkinson's research funding, Michael reflects on the power of community:
"We started out to be a research foundation and to be a foundation that purely focused on the next big breakthrough. And that's happened. We've brought some key initiatives and drugs to market, as things you'd expect us to do. But one of the things we would become is a focal point for the energy of the Parkinson's community and of their families."
They talk about the critical role people with and without Parkinson's can play in the Foundation's landmark study, the Parkinson's Progression Markers Initiative (PPMI), including individuals living with REM sleep behavior disorder (RBD). Mike Birbiglia has shared his journey of unintentionally acting out his dreams — yelling, kicking or punching —both on and off stage, including as a past performer at the Foundation's annual gala A Funny Thing Happened on the Way to Cure Parkinson's. Although not everyone who experiences RBD will develop Parkinson's, Michael and Mike discuss early signs of the disease and how people who act out their dreams can join PPMI today.  
To further discuss the impact that people living with disease have on informing the future of research and care, Michael shares: "I'm an expert on what it's like to live with Parkinson's. And I don't want to forfeit that in any exchange I have with a doctor. It's really important. It's earned, and it's powerful."
Michael closes the conversation with the role we all have in bringing the research field one step closer to a cure: "I'm going to paraphrase Barack Obama, but you are the agent of change that you're looking for. You are the tool that'll get this done."
Inspired to take action? Listen to the full conversation here. Then, learn more about PPMI and join the study that could change everything.