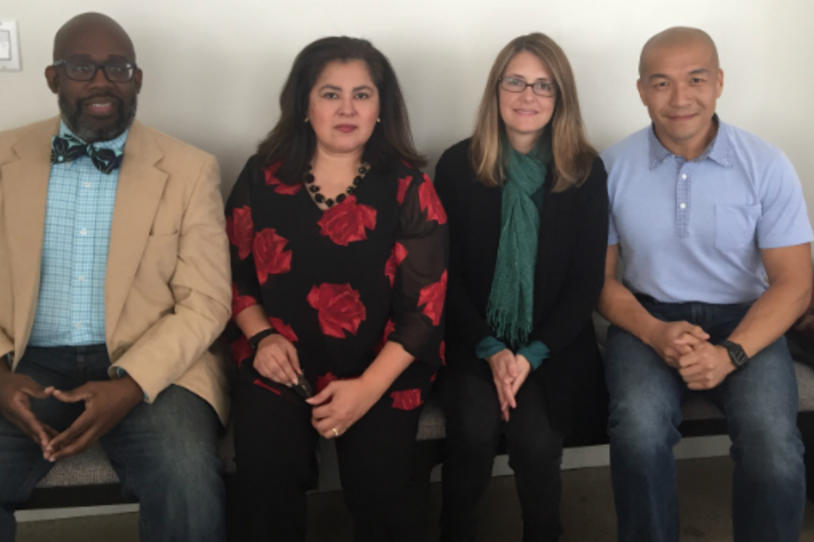 Meet the four newest members of the Foundation's Patient Council -- leaders and advocates who help bring the patient perspective to MJFF's work and educate the Parkinson's community.
Jimmy Choi
Jimmy was diagnosed with young-onset Parkinson's at 27. After years of denial, he began to use physical fitness to reclaim his life. In 2012, he joined Team Fox and ran his first marathon. Since then, he has completed countless running, cycling, and swimming races; his half and full marathon total alone has crossed the 100 race mark. In July 2017, Jimmy competed on NBC's "American Ninja Warrior" to educate people about the abilities of people with Parkinson's disease (PD) and the need for a cure. Jimmy hopes his visibility and role on the Patient Council can boost people's understanding of PD and teach people with Parkinson's how staying strong physically also can help them stay strong mentally.
Hadley Ferguson
In 2010, Hadley received a diagnosis of young-onset PD. Three years later, her diagnosis changed to multiple system atrophy (MSA-P), an atypical Parkinsonism. An artist whose work has been commissioned by collectors and organizations throughout the United States, Hadley founded Summit for Parkinson's, the sole organization for PD patients and families in Montana. In 2016, her Forging Resilience art installation was showcased at the World Parkinson Congress. She hopes her participation in the Patient Council allows her to further advance the possibility that MSA-P can be key to helping advance PD research. She also wants to ensure that people in rural communities have access to current information and the opportunity to participate in clinical trials.
Michael S. Fitts
When Michael was diagnosed with Parkinson's in 2012 at 38, he quickly got involved with a support group, and a few years later, with MJFF. He has a passion and determination to help others live their best lives. As an African American, he recognizes that he is in a unique position to serve as an advocate for both people with early-onset PD and people of color in the Parkinson's community. Michael was recently appointed to the University of Alabama at Birmingham/Lakeshore Research Collaborative -- an organization that promotes the health and wellness of people with disabilities. In joining the Foundation's Patient Council, he hopes to provide an additional diverse perspective and to help people expand their understanding of their options and possibilities in their journey.
Claudia Revilla
When Claudia was diagnosed with Parkinson's disease nearly ten years ago, she enjoyed an active lifestyle with her husband and two young boys. They had recently relocated to America from Mexico and worried about the challenges and changes that PD would bring. Undaunted, Claudia began educating herself about living with Parkinson's and connected with the Foundation. She has participated in clinical studies, fundraised with Team Fox and spoken to policymakers in Washington, D.C. Her entire family also has galvanized around advancing Parkinson's research and advocacy. She hopes her work on the Patient Council will allow her to speak on behalf of others like her who are living with "the unexpected frailty of Parkinson's" and to help people with PD and their families find a community.
Meet all the members of the Foundation's Patient Council.

______
Laura Amann is an award-winning freelance writer who contributes personal stories about living with Parkinson's to the MJFF blog