Targeting a Cure for Parkinson's Disease
A charity, best ball-style tournament occurring simultaneously at multiple Topgolf locations with a live leaderboard.

2023 Goal: $124,247 raised of $125,000
2023 Topgolf Locations
El Segundo, CA

Event Host: Kevin & Vicki Shea, Team Fox LA

Event Time: 11am-2pm PDT

Sacramento, CA

Event Hosts: Matt DeMoura 

Event Time: 11am-2pm PDT

San Jose, CA

Event Host: Carolyn Keddington

Event Time: 11am-2pm PDT

Atlanta, GA

Event Host: Bev Lee

Event Time: 2pm-5pm EDT

Naperville, IL

Event Host: Vanessa Rollings Giannis and Kelly Rath

Event Time: 1pm-4pm CDT

Schaumburg, IL

Event Host: Sam Bettis & Stephanie Wright 

Event Time: 1pm-4pm CDT

Tampa, FL

Event Host: John and Susan Colwell and Matthew Hawks

Event Time: 2pm-5pm EDT

Charlotte, NC

Event Host: Bob Krespan

Event Time: 2pm-5pm EDT

Baltimore, MD

Event Host: Karen Oleszewski and Jess Cullinan

Event Time: 2pm-5pm EDT

Germantown, MD

Event Host: Gina Clansky

Event Time: 2pm-5pm EDT

Minneapolis, MN

Event Host: Susan Otten 

Event Time: 1pm-4pm CDT

Holtsville, NY

Event Host: Nicole and Sean O'Donnell

Event Time: 2pm-5pm EDT

Edison, NJ

Event Host: Gina Sherman & Danielle Bechta 

Event Time: 2pm-5pm EDT

Austin, TX

Event Host: Helen Peil

Event Time: 1pm-4pm CDT

Seattle, WA

Event Host: Katy Tomasulo

Event Time: 11am-2pm PDT

Augusta, GA

Event Host: Andrea Smoak

Event Time: 2pm-5pm PDT
This event is great fun for both the serious golfer and the entire family. Last year nearly 300 golfers and 10 locations nationwide raised more than $106,000 bringing the two-year total to over $225,000 raised. -- 100% of which went to the high-impact research programs funded by The Michael J. Fox Foundation. We look forward to hosting another great day of golf and networking, and we hope you'll join us in simultaneously helping to also raise funds and awareness for Parkinson's research. (More than 75% of last year's fundraising came from participants sharing their fundraising page links with their personal networks)!

As part of registration, each participant will be given a personal fundraising page. We hope you'll take the next step in sharing with your friends, colleagues, and family. 
Targeting a Cure
Targeting a Cure is an event led by Kathy and Joe Holden- long time member of Team Fox. Throughout their Team Fox journey, Kathy and Joe have created community through multiple events over the years: SheaKin for a Cure, Tips for PD and most recently Topgolf. 
Through Targeting a Cure, the Holden's have created an event that spans the country uniting communities nationwide in search of a cure.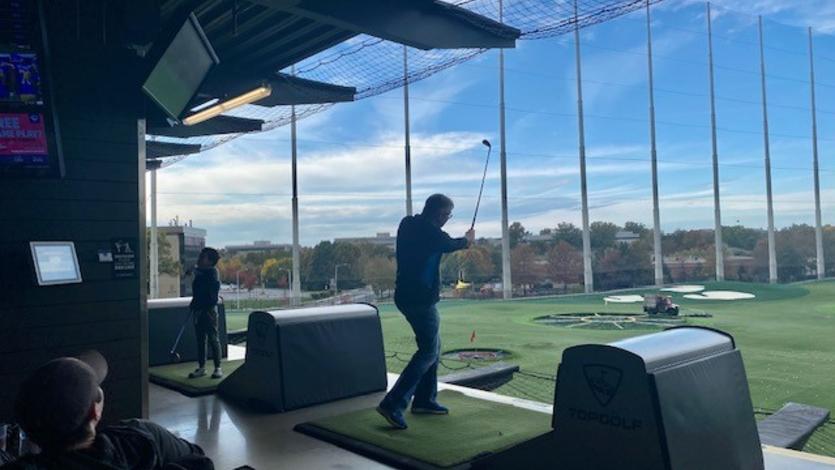 Sponsorship Opportunities & 2023 Sponsors
Get Involved: Become A Sponsor!
Through corporate support of Targeting a Cure: Topgolf, National and Regional Partners can become a part of The Michael J. Fox Foundation's mission. These events provide a collaborative opportunity to engage leadership, employees and customers with a meaningful philanthropic initiative. This is a unique opportunity to join us as we continue to grow Targeting a Cure, engaging more communities across the country each year. Targeting a Cure offers a range of sponsorship packages and exhibit opportunities to fit any budget. For more information or to share your interest, contact Team Fox at teamfox@michaeljfox.org.
Additional Ways To Partner
Corporate Teams
Bring together leadership and employees with a unique team-building experience and help support MJFF's mission by forming a corporate Topgolf team. Participants can participate and fundraise together or engage in friendly competition! For more information or to share your interest, contact us at teamfox@michaeljfox.org 
In-Kind Partners
Our in-kind partners donate products or services in lieu of or in conjunction with financial donations. Businesses that provide in-kind support are recognized the benefits of a corresponding level of partnership. Your in-kind support helps reduce the cost of the events and therefore enables us to further our resources toward speeding a cure. For more information or to share your interest, contact us at teamfox@michaeljfox.org.
2023 National Sponsors