Welcome to our 2023 MVP Awards & Celebration website. Click the tabs below to fully explore and celebrate the accomplishments of our 2022 fundraising communities!
Each year, The Michael J. Fox Foundation recognizes top fundraising members from the year prior through an MVP Awards Ceremony. Following this year's event, we're excited to bring you even more highlights from 2022 in an effort to continue showcasing the incredible impact that YOU - our MVP fundraising community - had on accelerating Parkinson's research.
2022 was another unprecedented year, but you showed up hungrier than ever to keep progress moving forward. We can't thank you enough for showing the world that a future without Parkinson's is possible, because with your partnership, it's already started: HERE.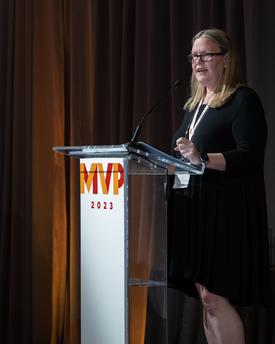 A Note from Our Chief Development Officer
"Team Fox is at the heart of everything we do, propelling the research forward every step of the way. Your hard work is paying off and we hope you feel as optimistic about the future of Parkinson's research as we do. There's more work ahead, but with Team Fox and its "whatever-it-takes" mentality, I know we'll get there."

- Michele Golombuski, The Michael J. Fox Foundation
Enjoy snapshots from the full weekend and find yourself in our full list of 2022 MVPS!
Then look through the gallery of 2022 event photos below. Thank you to the many members and teams who submitted their foxiest moments from 2022. Your spirit, smiles and accomplishments are infectious! 
As Team Fox MVPs, you each have distinguished yourselves as expert fundraisers by raising $10,000 or more to speed Parkinson's research. However, you are also leaders and role models within your communities by raising critical awareness and advocacy for the importance of this work. We can't thank you enough for being champions of The Michael J. Fox Foundation in all that you do! 
2022 Awardees
Congratulations to every one of our 2022 MVPs. Your unwavering enthusiasm, dedication and creativity continue to inspire our work — and the broader Parkinson's community — every day. Thank you. 
Top 10 Fundraisers

Additional Awards
New in 2023, our awards expanded to include both our Top 10 fundraisers and five additional awards highlighting the many ways our community can have an impact. These awards include our Hero of Research,  Hero of Advocacy, Rookie of the Year, Golden Cowbell award (team and individual), and the Legacy of Impact Award. Congratulations to our 2022 award winners.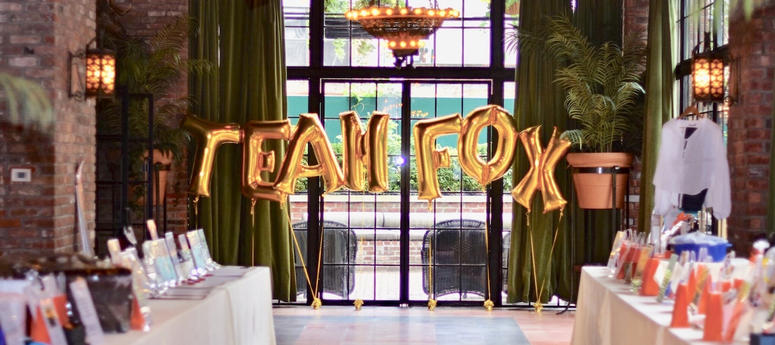 To our MVP honorees,
We hope you have enjoyed this year's MVP Awards Celebration. While we always cherish the opportunity for a moment to celebrate and connect in person, our teams are motivated by your outstanding efforts all year long. Your dedication, creativity and optimism never fail to amaze us and, despite the many curveballs thrown our way, 2022 was full of moments to cheer and toast.

We are so thrilled that we could properly thank you for your support in-person. Our staff and leadership remain your biggest cheerleaders,  and your continued efforts to advance Parkinson's research do not go unnoticed. Even in the face of unimaginable obstacles, this community drives impactful progress toward a cure. Already, so many of you have found ways to maintain this momentum in 2023, but there's more work ahead. 
As we look toward the second half of the year, there are ample opportunities for you to continue raising critical funds and awareness for Parkinson's research. 
Start Your Campaign. Inspired to host another event? Renew your registration today to launch your 2023 fundraising page. 
Support Local. Keep an eye on our Find an Event Calendar to discover fellow members in your area and events to attend or virtually support. 
Lace or Gear Up. Registration is now open for MJFF's Run/Walk Series with locations across the country. Gather some friends, form a team, and customize these events to your preferred speed and style. 
As MJFF Co-Founder Debi Brooks highlighted during our MVP Awards program, the power of community is limitless - and it's going to take all of us to achieve our goal. Beyond fundraising, there are other ways you can play a vital role in curing Parkinson's. Whether you fill out a screener form for our Parkinson's Progression Markers Initiative - MJFF's landmark study that needs people with and without PD - or sign up for our new Parkinson's Buddy Network - an online community for people living with PD and their loved ones - we hope you'll stay involved. 
The Michael J. Fox Foundation remains optimistic about the future of Parkinson's disease research, especially with this community by our side. Even in the face of a global pandemic, you continue to innovate, engage and assist one another. And in turn, we promise to continue to support you in any way we can. At The Michael J. Fox Foundation, we know that a future without Parkinson's is possible; and with your partnership, it starts HERE.
With gratitude
Liz
Liz Diemer
Vice President, Community Fundraising
---
2024 MVP Awards & Celebration
Details:
2024 Qualifications & Guidelines:
Should you have any questions, or concerns, please don't hesitate to reach out to us: RSVP@TEAMFOX.ORG