Advocate
Our Public Policy Priorities
Alongside a nationwide network of advocates, The Michael J. Fox Foundation works to ensure government policies accelerate the development of new, improved Parkinson's disease therapies and increase quality of life for people with Parkinson's and their families.
Want to get involved in Parkinson's public policy? Sign up to join our policy network at michaeljfox.org/advocacy.
Our public policy work covers three priority areas:
Further Parkinson's Disease Research
Basic research is the backbone of drug development, and the federal government funds more of this research, through U.S. taxpayers' contributions, than any other entity. Robust federal support is critical to moving better treatments and cures forward.
Federal Research Funding

Sufficient funding for the National Institutes of Health and the Department of Defense is key to driving progress.

Data Collection

Increased demographic information about people with Parkinson's can help researchers refine and target their work.

Research Freedom

Access to an array of scientific resources is critical to advancing breakthroughs.

Environmental Risk Factors

Research into chemicals and toxins associated with Parkinson's can build greater understanding of disease risk.
Support Therapy Development and Approvals
As new medications and devices approach market, they must request Food and Drug Administration (FDA) approval to be made available to the public. The FDA requires a significant budget to carry out its regulatory responsibilities and protect public health. It's also crucial that the agency understands patient priorities in order to address gaps in the Parkinson's treatment strategy.
FDA Funding

The agency requires adequate staff and resources in order to approve therapies efficiently.

Amplifying Patients' Needs

To bring treatments to market, the FDA must understand patients' needs and the latest ways to meet them.
Safeguard Access to Care and Support Services
Access to health services and treatments is an important part of any care regimen. For those living with Parkinson's disease today, these factors directly impact quality of life. Resources such as government benefits, comprehensive insurance coverage and emerging technologies can help improve well-being. To ensure the Foundation's policy efforts in this area are in line with the patient perspective, The Michael J. Fox Foundation has established a guiding set of health care principles.
Federal Health Programs

Medicare, Medicaid, the Department of Veterans Affairs and the Social Security Administration are vital to helping patients receive care.

Telehealth

The remote delivery of health care services allows more patients to see disease experts and helps conserve costs.

Accessing Medications

To maintain quality of life and independence, people with Parkinson's need prompt and affordable access to medications that are effective in treating the disease's symptoms.

Mental Health Services

People with Parkinson's need access to mental health care providers.

Support for Care Partners

Individuals caring for a loved one with Parkinson's need comprehensive resources to help manage their responsibilities.

Other Assistance

Several organizations provide information and other supports to help people with Parkinson's access health care and prescriptions.
How the Public Policy Team Works
The Foundation's Public Policy team elevates the needs of people with Parkinson's and their loved ones by meeting regularly with members of Congress and federal agency staff in Washington to educate them on issues of importance to the Parkinson's community, including government insurance programs. The Foundation also drafts letters to policymakers to push for policies favorable to Parkinson's research and care. This work may be accomplished independently, through the Unified Parkinson's Advocacy Council (a group of national, regional and state Parkinson's organizations that gather input on community priorities), or by partnering with other research- and patient-focused organizations in coalitions. For example, through our memberships in the American Brain Coalition and Partners for Better Care, the Foundation works with like-minded organizations to urge Congress to support patients and families. By collaborating in this way, the voice of the Parkinson's community is amplified in the policymaking process.
Political Campaigns
The Michael J. Fox Foundation for Parkinson's Research is a 501(c)(3) organization. Under the Internal Revenue Code, all section 501(c)(3) organizations are absolutely prohibited from directly or indirectly participating in, or intervening in, any political campaign on behalf of (or in opposition to) any candidate for elective public office. 
---
While the Foundation does not accept industry funding for public policy activities, we welcome input from industry on public policy issues affecting the Parkinson's community. MJFF may use this information to help advance policy initiatives that benefit patients, families and caregivers. Proposed sponsorship opportunities that create a conflict of interest or imply MJFF backing of a particular industry group or entity will not be considered.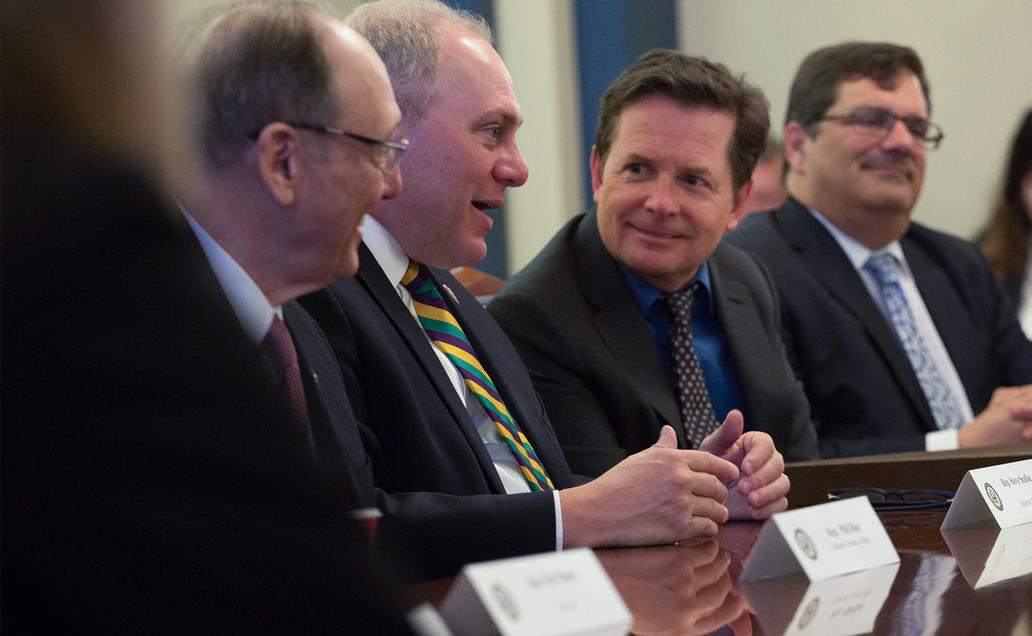 Public Policy Matters
Your voice and personal story can shape policymakers' decisions on issues of importance to the Parkinson's community.
Contact Your Policymakers