Team Fox is a member-driven fundraising program. As a DIY (Do-It-Yourself) fundraiser, it's up to you to create, plan, promote and manage your event. Throughout your fundraising journey, you'll have access to tools and resources to make your event planning process as simple and stress-free as possible.
"What is Team Fox?"
Team Fox is the grassroots community fundraising arm of The Michael J. Fox Foundation. Since 2006, Team Fox members worldwide have been turning their passions and interests into opportunities to raise funds and awareness for Parkinson's research.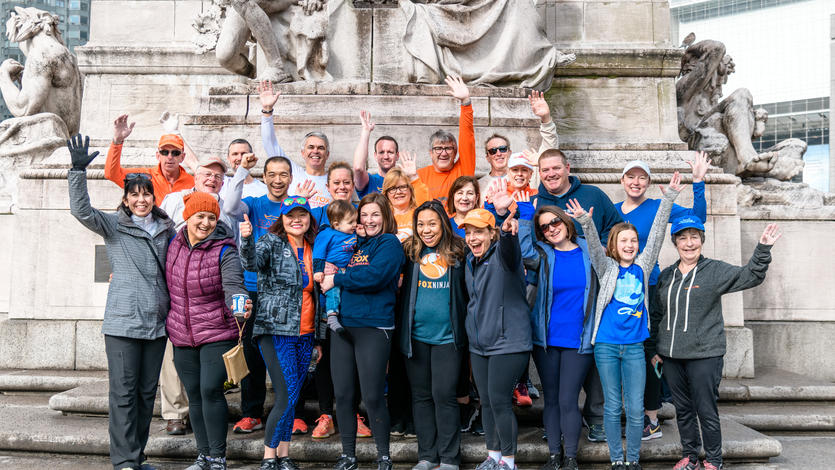 Team Fox members have raised over $100 million for Parkinson's research since 2006. Every penny donated by Team Fox members goes straight to our high-impact research programs to help speed a cure for Parkinson's disease.
You too can be part of this passionate community of change-makers who are bringing us closer to a cure by hosting a unique fundraising event. 
Some create their own events, such as pancake breakfasts, golf tournaments, themed parties, or community athletic activities. Others join our team for an endurance event, such as a marathon, trail run or hiking excursion.
Check out the Get Started tab to register with Team Fox to gain access to a customizable fundraising page with a unique URL that can be shared with your network via email, text message, and social media. 
Team Fox MVP Awards
Each year, The Michael J. Fox Foundation recognizes top fundraising members who use their creativity and passion to help bring an end to Parkinson's disease.
Search for a team or individual fundraiser to view their custom campaign page. Learn more about their event, track their progress, and make a donation to help them reach their goal. If you would like to search by event name or location, please use the link below.
We're sorry, there are no results found. Please check your spelling and try again.
1. Create an event  
From golf tournaments to galas, pancake breakfasts to comedy nights, and community walks to cycling events, determine the unique event that will work best in your community!
Register with Team Fox to gain access to a customizable fundraising page with a unique URL that can be shared with your network via email, text, and social media.
In the DIY Classy Guide, you'll find a step-by-step guide for setting up your account, creating an individual or team page for fundraising, joining a fundraising team, communicating with donors, and much more. 
2. Kick-start your campaign 
Pick a date and location. 

After you decide on the type of event you are going to host, determine when and where it will take place. Once you have those logistics confirmed, you can work backward to organize an efficient planning process.

Set your fundraising goal. 

Describe how much you would like to raise or the number of participants in attendance. To help reach your goal, establish benchmarks throughout your journey to track your progress. And feel comfortable adjusting your goal to reflect your efforts and results.

 

Share your story.

 Customize your welcome message with your personal story and upload meaningful photos. The "why" behind your campaign is vital to the success of your fundraising. Let your network know what is driving your support of The Michael J. Fox Foundation's mission. Making it personal will only gain you more support!

Custom URL. 

Make your page easy to access and remember! Creating a custom URL will help your campaign stand out and will tie everything together.

Lead by example. Start your fundraising with a self-donation! Your friends and family are more likely to donate to your fundraiser if they see that you have.
3. Plan your event 
Download the Team Fox handbook. The Team Fox Handbook is a robust tool meant to provide guidance at each stage of your fundraising. Featuring templates, tips, and tricks, this resources is intended for both new and returning members. 
Browse fundraiser resources. 

As a Team Fox member, you'll be able to leverage a suite of supportive tools to help make your fundraising campaign a success. Choose from digital assets and logos, access tips & tricks, find the latest research updates, request a letter of support, and learn how to quickly be on your way to your first $1,000. These resources are here to help you reach your Team Fox fundraising goal, spread the word on and offline, and connect with donors before and after your event. In need of print materials for your event? Be sure to fill out and submit a 

Material Request Form

,
4. Share your story 
Whether you're using your personal social media profiles or creating a social media page for your event, using sites like Instagram, Twitter, Facebook, YouTube, and TikTok is a great way to generate buzz and excitement for your upcoming fundraiser!
Spread the word. 

Share your Team Fox fundraising story on social media and let others know why you are supporting The Michael J. Fox Foundation's mission. Include information about upcoming challenges or events and remember to add the link to your Team Fox fundraising page for donations. 

Add helpful hashtags and tag Team Fox. 

Tag Team Fox in your posts and include our official hashtag: 

#GoTeamFox

. This allows other members of the Team Fox and The Michael J. Fox Foundation community to find, follow, repost and reshare. Other relevant hashtags include 

#Parkinsons #Research #FindACure #FundACure

, as well as those linked to specific campaigns like 

#ParkinsonsAwarenessMonth

 in April.
Send some emails. 

Spread the word to your friends and family using email. Browse email templates that you can use to share your campaign and ask for donations. These templates can be customized with a personal message to supporters. 
Follow Team Fox on Facebook, Twitter and Instagram:  
Get the Team Fox Handbook
From guides on customizing your Team Fox fundraising page to a thank-you letter template, we provide resources for reaching your Team Fox fundraising goal, spreading the word on and offline, and connecting with donors before and after your event.
Need advice from Team Fox staff? 
We're here for you and eager to share more ideas and best practices before your event! Leverage our knowledge and experience to ensure your success. Email teamfox@michaeljfox.org if you have any questions along the way.