Parkinson's IQ + You is a series of free events from The Michael J. Fox Foundation designed to empower patients and care partners to manage the disease, learn about the latest research and connect with local resources. These events are fully accessible and are designed for people at every stage in their journey with Parkinson's. To ensure a spot, we encourage early registration.

Event Program

The Parkinson's IQ + You program features interactive sessions about living with Parkinson's, making the most of doctor visits, building a comprehensive care team and learning about the latest research and the value of research participation. Sessions are led by a mix of people with Parkinson's, care partners, movement disorder specialists, researchers and allied health professionals. Registration and a welcome breakfast begin at 8 a.m. The program is from 9 a.m. until 2:45 p.m., and includes multiple breaks, lunch and light refreshments throughout the day. 

Partner Expo

At the Partner Expo, people can learn more about treatment options and make connections with the Parkinson's community. The Expo includes information on resources for patients and care partners, such as exercise programs, support groups, care options, research opportunities and more. 
MJFF Educational Events
Parkinson's IQ + You events provide a chance to meet others in the local Parkinson's community and learn more about treatment options as well as strategies for living with the disease. We invite you to join us!
Upcoming Events
A note on the evolving coronavirus situation: As you know, The Michael J. Fox Foundation has been monitoring the evolving situation surrounding coronavirus COVID-19. While the risk of exposure/infection likely remains low for the general public, we have made the decision to err on the side of caution and postpone the Parkinson's IQ + You events in South Florida, Chicago and the Bay Area.

While we hate to disappoint our community, your health and comfort are our top priorities. Our team is working to reschedule these events for dates to be determined later this year or early in 2021; please look out for future communications as we know more.
We apologize for any inconvenience. If you have questions, please contact us at (800) 708-7644.
Consider joining one of our webinars as we work on rescheduling these events.
Parkinson's IQ + You Virtual

The Michael J. Fox Foundation is offering a new, virtual Parkinson's IQ + You series to help you and your loved ones navigate life with Parkinson's.

We are transforming sessions from our popular educational events into online sessions. During each online event, you'll hear from a varied panel of experts, gain access to timely resources and be able to ask questions.

The first event, The Doctor Will See You Now…Virtually, explains telemedicine and offers tips on how you can make the most of a virtual visit with a doctor.

Chicago

May 2, 2020 (Being postponed)
Renaissance Schaumburg

Bay Area

May 16, 2020 (Being postponed)
Oakland Marriott City Center 

Coming Soon

Houston
August 22, 2020
Hilton Americas- Houston

South Florida
January 30, 2021 (Rescheduled from March 2020)
The Diplomat, Hollywood
Registration opens Fall 2020
Event Sponsors
These events are brought to you by ACADIA Pharmaceuticals, with support provided by Voyager Therapeutics and additional members of the Parkinson's Disease Education Consortium, an alliance of biotechnology and pharmaceutical firms who support The Michael J. Fox Foundation's commitment to furnishing high-quality educational resources for the Parkinson's community.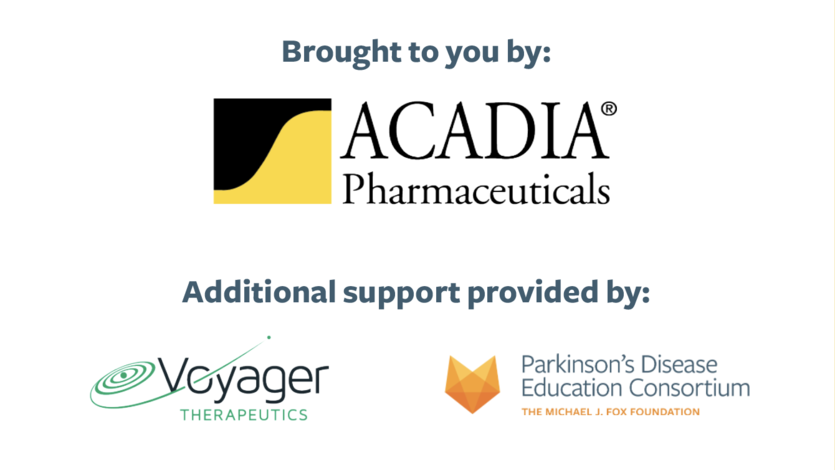 National Partners