Understanding Parkinson's
Resources for People Newly Diagnosed with Parkinson's
"You have Parkinson's disease." Four words that come with a diagnosis full of questions and uncertainty. However you choose to start processing, you're not alone. The Michael J. Fox Foundation has developed resources to help individuals and families move through the earliest days with Parkinson's disease (PD) and beyond.
Wondering where to start? Download our free guide, "Navigating Parkinson's: Your Guide to the Early Years," for insights, wisdom and practical perspectives on everything from finding acceptance to navigating doctor's appointments.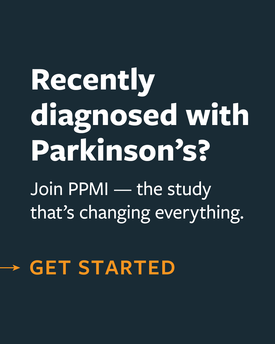 A Golden Opportunity to Speed a Cure
Understandably, few people think about participating in research following a Parkinson's diagnosis. But people at this early stage of disease are in a unique position to help speed new treatments. The Parkinson's Progression Markers Initiative (PPMI) is our landmark study on a mission to stop the disease. If you're recently diagnosed and not yet taking medication, call 877-525-PPMI or email joinppmi@michaeljfox.org to get started.
Your First Year with Parkinson's: Practical Tips for the Road Ahead
A Parkinson's diagnosis can bring many questions and emotions. But the good news is that you don't have to figure out everything at once. Movement disorder specialist Rachel Dolhun, MD, shares tips for making your way forward.
Six Tips for Your First Year with Parkinson's (and Beyond!)
See a PD Specialist

If you haven't already done so, see a movement disorder specialist (MDS), a neurologist with additional training in Parkinson's. They are best positioned to give a second opinion on your diagnosis or care and develop an individualized treatment plan.

Learn about Parkinson's

Knowing the facts about Parkinson's can help you understand the disease and make informed decisions about your care. Ask your doctor and other people with Parkinson's for credible resources to help you learn more about the disease and your symptoms.

Build a Support System

Know that you're not alone in Parkinson's. Some people find support by talking with a loved one, and many find it helpful to connect with others through support groups, online forums such as the Parkinson's Buddy Network or even exercise classes.

Eat a Healthy, Balanced Diet

There's no one specific diet for Parkinson's, but a nutritious diet that's high in fruits, vegetables and whole, unprocessed foods is good for your body and brain. Talk to your doctor or a dietitian to craft a diet that works for you.

Exercise Regularly

Exercise can lessen movement and non-movement symptoms, such as depression and anxiety, which are common in Parkinson's and can increase around the time of diagnosis. Any type of exercise is beneficial, so find something you enjoy and will do regularly.

Join a Research Study

Taking an active role in research can be a way to take control when you may feel like much is out of your hands. Our landmark PPMI study needs volunteers who are recently diagnosed and not yet taking medication. Travel costs are covered for participants and a loved one. Call 877-525-PPMI or email joinppmi@michaeljfox.org to connect with the team.
"Enrolling in PPMI gave me an option to do something constructive and practical."
Jen Gaudio
PPMI Participant, Living with PD