Parkinson's is unique. Everyone has their own symptoms and charts their own course. Parkinson's 360 is a set of resources developed by The Michael J. Fox Foundation for anyone whose life has been touched by Parkinson's.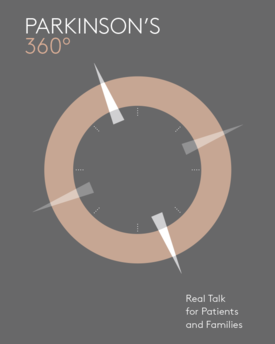 Guide for Navigating Parkinson's
Every person diagnosed with Parkinson's disease (PD) embarks on a unique journey. There is no standard path, and, for many, this proves to be among the most challenging aspects of the disease. Parkinson's 360 walks through the different symptoms, as well as the emotional and social changes that may arise at different points in the journey. It's a candid and relatable guide for patients and families living with Parkinson's. (Accesa nuestra guía "Parkinson 360" en Español.)
Voices of People with Parkinson's
Getting to Know Parkinson's Disease
Michael S. Fitts shares the beginning of his own journey with Parkinson's.
path to clinical diagnosis
common early motor and non-motor symptoms
emotional changes that can occur when adjusting to life with PD
first steps to consider
Paving a Path with Parkinson's Disease
Jimmy Choi talks about the positive and negative impact that PD has had on his life.
what to expect when symptoms begin to affect day-to-day activities such as work or social interactions
new medication considerations
how to enlist allied health care professionals
Looking Ahead with Parkinson's Disease
Lisette Ackerberg discusses the changes she's made to live well with Parkinson's.
how symptoms can progress over time
when to plan for higher levels of support
ways to alter medication if complications arise
Deep Brain Stimulation
Richie Rothenberg describes his experience before, during and after the deep brain stimulation procedure. Though it's not right for everyone with PD, this surgical treatment can have a significant impact on symptoms and quality of life.
Seven Tenets for Life with Parkinson's
There is no "one-size-fits-all" description of Parkinson's disease.

Your symptoms and progression are not like anyone else's. Monitor your own Parkinson's, educate yourself on the disease and become the top expert on you.

Isolation can worsen symptoms.

You don't have to manage this disease on your own. A team-based approach (including a movement disorder specialist and allied health care professionals) can help you stay physically and emotionally strong. Keep the lines of communication open with loved ones, and consider joining a support group.

Don't settle.

Parkinson's disease varies, as do treatment options. Designing a regimen that feels comfortable and effective for you will take time and, likely, more than one try. Keep working with your doctor and care team until you get there. Make changes to address progression as needed.

Hone your news instinct.

The latest research is the latest hope, but in our 24/7 media environment, there's a learning curve to interpreting science news. Find experts you trust, seek out credible updates and commentary, and let go of the rest. Being news-savvy can help you maintain peace of mind.

Parkinson's is a non-linear disease.

You can have good days, weeks and months, even during trying times. Exercising, eating well and staying involved with your social circle, community and activities you enjoy can have a major influence on your Parkinson's path.

Get engaged.

There are many ways to contribute to better outcomes for yourself and others. Participating in research studies or advocacy, raising funds, starting a blog or support group — however you choose to get involved — can give you a sense of control and help bring us all closer to a world without Parkinson's. You might also attend one of our Parkinson's IQ + You events and connect with local resources.

Be prepared.

Parkinson's diagnosis or not, we all face certain issues in our later years. Make sure your family understands your wishes for end-of-life care, and put your will and estate in order. Having challenging conversations at the beginning of your journey with Parkinson's can help lighten the burden as the disease advances.
Tools for Living Well with Parkinson's
Building a Care Team:

Learn about finding the right doctor and what it means to be a care partner.

Work & Benefits:

Get tips for navigating the workplace, insurance and government benefits.

Relationships:

Find information on sharing your diagnosis, the power of support groups, and the impact of Parkinson's on sexual and reproductive health.

Mental & Physical Health:

Learn how Parkinson's might affect mood, energy and sleep, and how changes in diet and exercise can ease symptoms.

Medications & Devices:

Read about approved treatments aimed at improving the symptoms of Parkinson's disease and therapies in clinical trials with the potential to slow or stop PD progression.
What Is Parkinson's Disease?
Dr. Rachel Dolhun, a movement disorder specialist and vice president of medical communications at The Michael J. Fox Foundation, breaks down the basics of Parkinson's.
"Sure, Parkinson's may be one step forward and two steps back, but I've learned that what is important is making that step count."