Director • Corporate Communications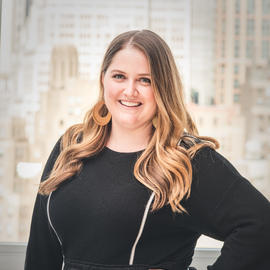 Allison Boiles is director of corporate communications, leading the creation and execution of strategies to meaningfully tell the story of the Foundation's impact on Parkinson's disease research.
In her current role, Allison directs media relations, brand stewardship and positioning, and crisis communications. She also works in concert with a range of stakeholders — both internal and external — to amplify Foundation initiatives and thought leadership in the press and through traditional communication channels.
With more than ten years of experience in communications and marketing, Allison has dedicated her career to supporting nonprofit organizations as they realize a world with better health outcomes for all. Prior to joining The Michael J. Fox Foundation in September 2015, Allison worked with an organization committed to improving the health of women and girls in developing countries. In this role, Allison managed the creation of marketing and programmatic materials, while leading local and international event management and audience engagement on social media.
Allison graduated from the University of California, San Diego with a B.A. in communications and minors in international studies and Spanish literature.