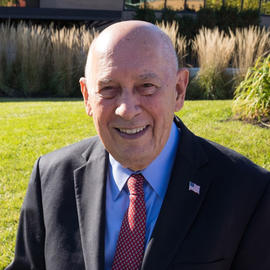 "Whether Parkinson's-related or not, the obstacles in my life won't stop — and I won't let them stop me. I make workarounds to address the disease and I accept it for what it is. I still enjoy meeting new people. And I continue to be grateful that I can share my story. I hope my life story can help more people — even just one more person."
A life-long entrepreneur and sports fan, Bill Rasmussen's innovations in advertising, sports and broadcasting are too numerous to list, but they include the creation of ESPN, the world's first 24-hour, 7-days-a-week sports television network; the network's signature program SportsCenter; wall-to-wall coverage of NCAA men's and women's regular-season and tournament college basketball coverage; and coverage of the College World Series. Diagnosed in 2014 at age 81, he has taken on the disease with his signature positive attitude and commitment to staying active, embracing engagement and inspiring others, one person at a time.
Bill is in high demand as a national speaker providing thought leadership and personal viewpoints on his founding of ESPN and more recently, his optimistic approach to Parkinson's disease.
A United States Air Force veteran, Rasmussen received his bachelor's degree in Economics from DePauw University and his MBA from Rutgers University.
Learn more about Bill at www.espnfounder.com.
---
The MJFF Patient Council was established in March 2009 as a formal channel for the Foundation to solicit input from PD patients and the broader Parkinson's community. The Council advises the Foundation on programmatic fronts including (but not limited to) strategies to best convey patient priorities to the research community and its funders; content and emphasis for patient education and outreach relevant to MJFF's mission to find a cure; patient roles in developing novel ways to conduct research; and mechanisms for impact assessment.