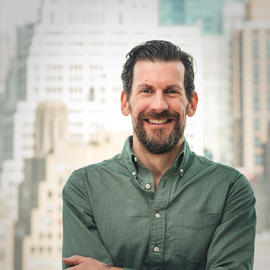 Brian joined the Foundation in 2004. As Chief Scientific Officer, Brian works with a team of professionals who stay closely linked to the Parkinson's community in order to develop an aggressive and innovative strategic vision for accelerating research and drug development for Parkinson's disease. This ensures that MJFF priorities reflect and best serve the ultimate needs of patients.
Dr. Fiske earned an undergraduate degree in biology from Texas A&M University and a PhD in Neuroscience from the University of Virginia. After completing postdoctoral research at Columbia University, Brian spent several years as an editor for the scientific journal, Nature Neuroscience, before coming to the Foundation to help bring new treatments to people with Parkinson's.
Brian is passionate about the mission of the Foundation. In addition to his work as a Foundation scientist, Brian has been an active Team Fox member, running the New York Marathon and other race event to raise critical funds for research.