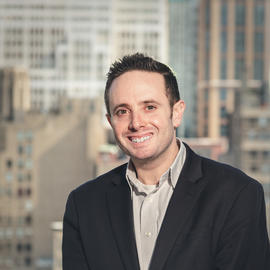 "I have never been one to sit on the bench. When I had the opportunity to work with MJFF — an organization that was mission-driven and efficient — I jumped at the opportunity. My outcome is simple: work in whatever capacity is necessary to cure Parkinson's disease."
Bryan M. Roberts is the associate dean in the Roy H. Park School of Communications at Ithaca College. In this position, he oversees a wide array of student success initiatives including assisting with the creation and launch of the Ithaca College New York City Program. Trained as a media researcher, Bryan studies the impact of sexual and violent media on a wide array of age groups. Diagnosed in 2010 at age 30, he is committed to advocacy, philanthropy and clinical trial participation.
Bryan grew up in Eastern Long Island and holds his undergraduate and graduate degrees in Communication Science from the University of Connecticut. Prior to his position at Ithaca, he worked at Purchase College, SUNY for several years in both teaching and administrative capacities.
In his free time, he enjoys watching the Mets and UConn Huskies, reading books on political history and hitting baseballs. Bryan resides in upstate New York with his daughter, Avery, and two terribly behaved cats, Kemba and Maya.
---
The MJFF Patient Council was established in March 2009 as a formal channel for the Foundation to solicit input from PD patients and the broader Parkinson's community. The Council advises the Foundation on programmatic fronts including (but not limited to) strategies to best convey patient priorities to the research community and its funders; content and emphasis for patient education and outreach relevant to MJFF's mission to find a cure; patient roles in developing novel ways to conduct research; and mechanisms for impact assessment.