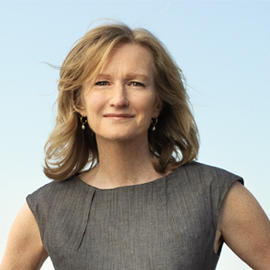 Deborah W. Brooks is Chief Executive Officer (CEO) and Co-Founder of The Michael J. Fox Foundation for Parkinson's Research (MJFF). Ms. Brooks launched MJFF with Michael J. Fox in 2000 and served as founding CEO until 2007. Since then, she served as Co-Founder and Executive Vice Chairman, overseeing the fundraising and marketing functions of the organization. Ms. Brooks stepped back into the role of CEO in May 2021 to lead the Foundation to an even stronger and more influential position in the Parkinson's community.
With a background in business and finance, she brings strategic leadership, business acumen and an entrepreneurial approach to the Foundation, which has grown rapidly from a start-up to the world's largest nonprofit funder of Parkinson's disease research.
As Chief Executive Officer, Ms. Brooks sets the strategic vision for the Foundation. She is supported in this effort by Chief Mission Officer Todd Sherer, PhD, Chief Program Officer Sohini Chowdhury and the Foundation's executive team. Together they work to articulate and realize the vision of MJFF as an unprecedented stakeholder in drug development — a nimble, resourceful, patient-focused problem-solver whose efforts are demonstrably accelerating progress toward treatment breakthroughs and a cure. 
Ms. Brooks started her career at Goldman, Sachs & Co., where she spent nine years as vice president in the Fixed Income and Asset Management Divisions. She holds an AB in Economics from the College of William and Mary, an MBA from the Tuck School at Dartmouth College and an MS in Marital and Family Therapy from Northwestern University. 
Ms. Brooks currently serves on the Board of Advisors of the Tuck School of Business at Dartmouth, the Advisory Board for Women in Business at Tuck, and the Delaware Parkinson's Disease Task Force. She is a past member of the Tuck School MBA Council, the Board of Overseers of the School of Social Policy and Practice at the University of Pennsylvania, the Advisory Board for FasterCures' Philanthropy Advisory Service, the Parkinson's Institute Board of Directors, Pfizer's U.S. Health Advisory Board, the National Advisory Environmental Health Sciences Council of the National Institutes of Health, and External Advisory Board for Emory University's Collaborative Center for Parkinson's Disease Environmental Research.
Ms. Brooks has been a keynote speaker at media and industry events throughout the world including Financial Times' Global Pharmaceutical and Biotechnology Conference, Fortune Brainstorm HEALTH, Deloitte Global Health Care Life Science and Health Care Industry Forum, J.P. Morgan (r)Evolution Conference, Amazon's MARS conference, the Milken Institute Global Conference, FasterCures, the Convergence Forum, the America Health Insurance Plans (AHIP) Institute, and the SkyBridge ALTernatives (SALT) conference.
Ms. Brooks is the recipient for several achievement awards recognizing her leadership, including Forbes' "50 Women Over 50: Impact List", NonProfit PRO "2020 Executive of the Year", and White House "Champion of Change" honoree.
Additionally, she has been featured in a mix of top tier press including The New York Times, Bloomberg, Fortune, Fast Company, Forbes, ABC World News with Diane Sawyer, CNBC's The Wall Street Journal Report with Maria Bartiromo, Variety and People.