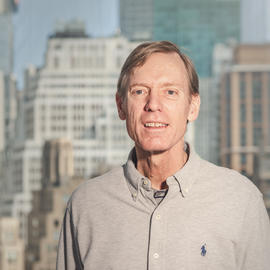 Eric Pitcher is an engineer and managing partner at PSI Midstream. He was diagnosed with Parkinson's in 2008.
Eric was born in 1959 and grew-up in Dallas, Texas. After graduating University of Texas with a Bachelor of Science in Chemical Engineering in 1981, he worked for Amoco Production Company for eight years. In 1990, Eric chose to leave Amoco and form Forte Energy to acquire producing oil and gas properties. In 1993, he co-founded Synergy Oil & Gas. Synergy Oil & Gas was sold to Penn Virginia Corporation in July 2001.
Eric was chairman of the Houston Society of Petroleum Engineers Business Development group from June 2001 until May 2002. In November 2001, he joined Natural Gas Partners in Irving, Texas as a venture partner. In April 2002, Eric and his previous Synergy Oil & Gas partners formed Synergy Oil & Gas, LP. In May 2002, he became a partner at the Eyes of Texas Partners, a private venture group. Two years later, Eric joined in the formation of NLM Capital Partners based in Irving, Texas.
He has been appointed to numerous committees including University of Texas (UT) System Chancellor's Council Executive Committee and UT Petroleum Engineering External Advisory Committee. He supports the UT Energy Institute, UT Engineering Scholarship Fund, the Museum of Nature and Science, KidLinks Foundation and various local charities.
Eric lives in Dallas with his wife Liz and five children: Michelle, Heather, Travis, Ethan and Ava.
---
The MJFF Patient Council was established in March 2009 as a formal channel for the Foundation to solicit input from PD patients and the broader Parkinson's community. The Council advises the Foundation on programmatic fronts including (but not limited to) strategies to best convey patient priorities to the research community and its funders; content and emphasis for patient education and outreach relevant to MJFF's mission to find a cure; patient roles in developing novel ways to conduct research; and mechanisms for impact assessment.