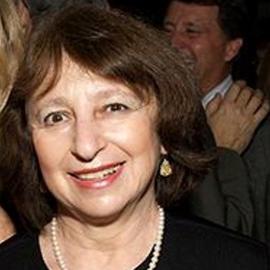 Eugenia (Genia) Brin is a retired research scientist at NASA's Goddard Space Flight Center. She and her family immigrated to the United States from the former Soviet Union in 1979.
Genia is an emeritus board member of HIAS (Hebrew Immigration Aid Society), where she was the national chair for myStory, a project dedicated to documenting Jewish emigration to America, and is currently heading a project of digitization of the HIAS archive.
Genia was diagnosed with Parkinson's in 1999, and in 2008 the University of Maryland School of Medicine created the Eugenia Brin Professorship in Parkinson's Disease and Movement Disorders as a result of her family's gift — supporting the faculty's continued PD research and clinical work. Genia's son is Sergey Brin, the co-founder of Google, who is dedicated to support of PD research. Her younger son, Sam Brin, has supported MJFF through Team Fox, including running the New York City Marathon.
Genia lives in California and enjoys spending time with her three young grandchildren.
---
The MJFF Patient Council was established in March 2009 as a formal channel for the Foundation to solicit input from PD patients and the broader Parkinson's community. The Council advises the Foundation on programmatic fronts including (but not limited to) strategies to best convey patient priorities to the research community and its funders; content and emphasis for patient education and outreach relevant to MJFF's mission to find a cure; patient roles in developing novel ways to conduct research; and mechanisms for impact assessment.