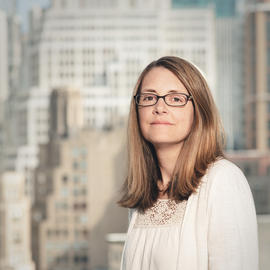 Hadley Ferguson is a patient activist and artist. She was diagnosed with young-onset Parkinson's disease in 2010, but as her symptoms progressed, the diagnosis changed three years later to multiple system atrophy (MSA-P), an atypical Parkinsonism.
In 2011, Hadley co-founded and currently serves as board president of Summit for Parkinson's, the only Parkinson's organization serving the needs of patients and their families in the state of Montana. She networked with many of larger Parkinson's organizations, including the Brian Grant Foundation and The Michael J Fox Foundation, to help bring education and awareness to the disease within her state. She also served as the patient representative on the MSA Coalition Board for four years and has transitioned to an Emeritus Board member.
Hadley spent her career as a freelance artist. She holds a Bachelor of Fine Arts in drawing and sculpture from the University of Montana. Her work includes many public and private commissions for collectors throughout the United States. Her most recent public work is a two-painting series for the Montana State Capitol Building permanent collection about the history of women in the state titled Women as Community Builders. She continues to paint, but has transitioned to creating smaller works.
Hadley recently combined her love of artwork and her patient activism when she and fellow artist Carolyn Maier created the art installation Capturing Moments: Living Life with Parkinson's. The exhibit features the Tree of Resilience, a 10-foot metal tree, which shares how lives have been touched by Parkinson's through quotes on copper and paper leaves, photographic portraits paired with personal stories and a video presentation. It exhibited at the Museum of Art and Culture in Missoula, Montana, and was one of several featured art displays at the 2016 World Parkinson Congress in Portland, Oregon. Today the Tree of Resilience is housed in The Michael J. Fox Foundation's office in New York City.  She is represented by Radius Gallery in Missoula.
Hadley feels gratitude and joy for life and her very close family and friends, particularly her daughter Sarah, husband John and parents, who support her and inspire her each day. She is honored to have an opportunity to work with MJFF and is passionate about bringing education, awareness and research opportunities to the Parkinson's and MSA communities.
---
The MJFF Patient Council was established in March 2009 as a formal channel for the Foundation to solicit input from PD patients and the broader Parkinson's community. The Council advises the Foundation on programmatic fronts including (but not limited to) strategies to best convey patient priorities to the research community and its funders; content and emphasis for patient education and outreach relevant to MJFF's mission to find a cure; patient roles in developing novel ways to conduct research; and mechanisms for impact assessment.