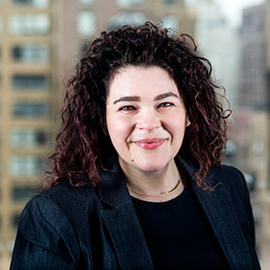 Holly Teichholtz (formerly Barkhymer) oversees the Foundation's efforts to tell the story of how it is tangibly speeding progress toward a cure for Parkinson's disease.
She manages a team of writers and project coordinators whose job is to translate complex subject matter into compelling, relatable words and images. Through publications, media relations, photography, multimedia, and virtual and face-to-face discussion, the Mar/Comm's team reports on high-impact science and spotlights the efforts of Parkinson's community members working in different ways to accelerate treatment breakthroughs.
Holly joined the Foundation as Communications Officer in September 2005. Her science communications career prior to MJFF included positions at The Rockefeller University and The Whitehead Institute for Biomedical Research (Massachusetts Institute of Technology). A graduate of Boston Latin School and alumna of Barnard College, she holds a B.Mus from Boston University's School of Music, where she studied vocal performance.