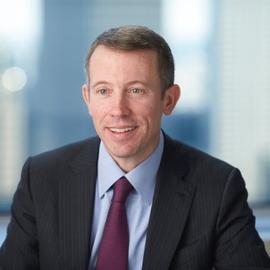 Jim McNasby started with the Foundation on April 1st, 2020. His objective is to develop and execute human resource strategy in support of the MJFF business plan and strategic direction. He also focuses on optimizing MJFF's people- and culture-centered activities, including hiring, training, professional development and performance management. He also provides legal and compliance advice to the Foundation and its senior leadership.

Before joining MJFF, Jim served as Managing Director, Global Sales (2017-2020) and General Counsel (2007-2017), for Marsh LLC, the world's leading insurance broker and risk advisor.  Prior to Marsh, Jim held various in-house legal positions at Kraft Foods (2004-2007) and Philip Morris (1998-2004) in the US and abroad.  He began private practice in New York at Davis Polk & Wardwell (1995-1998), after serving as a law clerk to the Chief Judge of the US District Court in Providence, RI.
Jim attended the University of Virginia ('91) and Harvard Law School ('94).  He is currently a Board Member of The Billy Rose Foundation, The Parkinson's Unity Walk and OptimalResume.  He formerly served as a director of United Biscuits Group Investments, PLC, in the UK.
Jim was diagnosed with Parkinson's Disease in 2000.  He lives in New York City with his husband Donald Moss and their dog, Max.