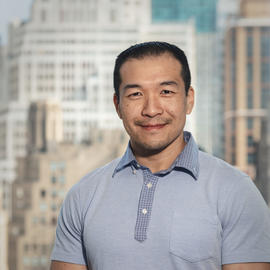 Jimmy Choi serves as the Chief Technology Officer for Moravia. In 2003, Jimmy was diagnosed with young-onset Parkinson's disease at age 27.
At first, Jimmy went into denial and "did nothing" for several years to manage his symptoms. By 2010, he walked with a cane and he hit rock-bottom when he fell down a full flight of stairs while carrying his young son. While both were physically unharmed, the fall became a catalyst for Jimmy to take back control and engage with his treatment and the PD community.
Since then, Jimmy has participated in multiple clinical trials to further research for better treatments and hopefully a cure for PD. Physical therapy led him to running and other activities that help him physically and mentally. He joined Team Fox in 2012, and ran in his first marathon that year -- and he hasn't stopped since. In July 2017, he took on a new challenge and competed on NBC's "American Ninja Warrior" to show the world that Parkinson's will not stop him.
Jimmy maintains a very active lifestyle, having competed in over 100 half marathons, 15 full marathons, one ultra-marathon, six Grand Fondo rides, multiple Spartan Races and countless 5K and 10K runs. To date, he has raised more than $240,000 for Parkinson's research with Team Fox... and counting.
Jimmy lives with his wife Cherryl and two children, Karina and Mason. He describes himself as a "foodie" and "wannabe chef" who creates savory foods and delectable desserts. He looks forward to helping educate others about Parkinson's and the role exercise and other lifestyle adjustments can play in treatment.   
---
The MJFF Patient Council was established in March 2009 as a formal channel for the Foundation to solicit input from PD patients and the broader Parkinson's community. The Council advises the Foundation on programmatic fronts including (but not limited to) strategies to best convey patient priorities to the research community and its funders; content and emphasis for patient education and outreach relevant to MJFF's mission to find a cure; patient roles in developing novel ways to conduct research; and mechanisms for impact assessment.