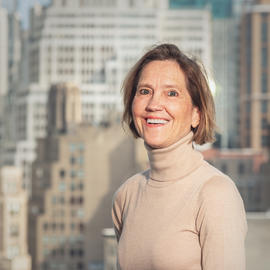 "I am inspired by the researchers. The thought that there are really smart people whose job it is to fix my disease gives me hope."
Margaret Sheehan, a partner at the global law firm Ashurst LLP, is a 25-year veteran of practicing law in the financial services industry, with a specialized focus on investment management and securities. She is the co-author of a book on the regulation of broker-dealers and a frequent speaker on issues facing the securities industry. Diagnosed with Parkinson's in 2004 at the age of 44, Margaret began participating in clinical trials and educating the broader Parkinson's community on the trial participant process.
Margaret underwent DBS surgery in 2014. She believes that the key to finding better treatments and a cure lies in gathering and capturing as much information from as many people with Parkinson's as possible.
Margaret received her undergraduate degree in political science from Duke University and her law degree from Georgetown University. Her interests include gardening, skiing and tennis, and she is an avid baseball and football fan.
---
The MJFF Patient Council was established in March 2009 as a formal channel for the Foundation to solicit input from PD patients and the broader Parkinson's community. The Council advises the Foundation on programmatic fronts including (but not limited to) strategies to best convey patient priorities to the research community and its funders; content and emphasis for patient education and outreach relevant to MJFF's mission to find a cure; patient roles in developing novel ways to conduct research; and mechanisms for impact assessment.