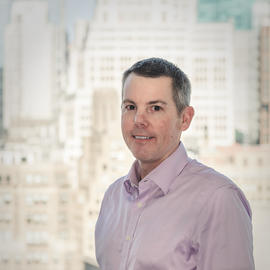 Mark Frasier joined the Foundation in 2006. As Chief Scientific Officer, Mark co-manages a team of research professionals who stay closely linked to the Parkinson's research community in order to develop an aggressive and innovative agenda for accelerating research and drug development for Parkinson's disease. This ensures that MJFF research priorities reflect and best serve the ultimate needs of patients.
Mark regularly meets with academic and industry researchers around the world to identify promising proposals to support, providing troubleshooting and ongoing management of projects as they go forward. He also supports the Foundation's priority interest in developing biomarkers for Parkinson's disease that will accelerate clinical trials of new drugs.
Dr. Frasier earned an undergraduate degree in Biochemistry from the University of Dayton and a PhD in Pharmacology from Loyola University Chicago. He completed his postdoctoral work in the Neuroscience Discovery Research Group at Eli Lilly, Inc., in Indianapolis, Indiana, where he worked on drug-discovery research in Parkinson's and Alzheimer's disease.
Mark is passionate about the Foundation's ability to problem solve, convene, and ultimately accelerate new therapies for Parkinson's disease. In addition to his work as a Foundation scientist, Mark has been a Team Fox member, running the New York ING Marathon and playing golf to raise critical funds for research.