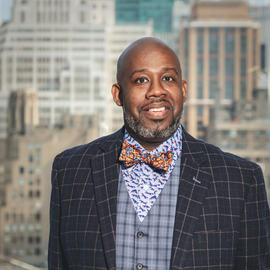 Michael S. Fitts serves as assistant dean for user access and diversity at The University of Alabama at Birmingham (UAB Libraries). He was diagnosed with Parkinson's disease in 2011 at age 38.
In 2001 he became the first African American faculty member of the Lister Hill Library of the Health Sciences and later went on to become both the first African American assistant director and assistant dean. In 2015, Michael was appointed to the UAB/Lakeshore Research Collaborative — an organization whose primary goal is to promote the health and wellness of people with disabilities.
In addition to his more than 20-year career with UAB, he serves as an advocate for the education of those with early-onset Parkinson's by being as an example of living successfully and productively with the disease.  
---
The MJFF Patient Council was established in March 2009 as a formal channel for the Foundation to solicit input from PD patients and the broader Parkinson's community. The Council advises the Foundation on programmatic fronts including (but not limited to) strategies to best convey patient priorities to the research community and its funders; content and emphasis for patient education and outreach relevant to MJFF's mission to find a cure; patient roles in developing novel ways to conduct research; and mechanisms for impact assessment.